Hailey Bieber (formerly Baldwin) stands out among the sea of celebrities not only for her impeccable fashion sense but also for her unique collection of tattoos. Let's embark on a journey to discover the art and meanings behind her ink.
Who is Hailey Bieber?
Born on November 22, 1996, as Hailey Rhode Baldwin, this American model and television personality has carved her name in the entertainment industry. While her familial ties to the Baldwin acting dynasty might have introduced her to the limelight, Hailey has since built a reputable name for herself, especially after tying the knot with pop icon Justin Bieber.
Hailey Bieber, just like her husband, has a collection of tattoos scattered across various parts of her body, over 20 tattoos in total. However, unlike her husband, Justin Bieber, and most other pop stars who have well-detailed conspicuous ink designs, Hailey's tattoos are tiny ink designs with a touch of sophistication and elegance. Importantly, although small, it is difficult to ignore these beautiful works of art on different parts of her body done by famous tattoo artists
Below are our favorite shots of all of Hailey Bieber's tattoos and their respective meanings:
Star tattoo
Hailey Bieber's tiny finger tattoo on her right middle finger was done by her friend and celebrity tattoo artist JonBoy in 2016. The tattoo is located on the inner side of her middle finger.
Roman Numerals Tattoo
Hailey Bieber wears VI-X-XC on her right wrist. This was her first tattoo at 18 years, done by JonBoy, a famous tattoo artist. The Roman numerals are of her parents' wedding date, 10/06/1990. The Roman numerals wrist tattoo is beautiful.
Before getting this tattoo done, she, at 17 years old, visited JonBoy's parlor together with her dad, who opposed her request to get a tattoo before she was 18 years old. When she turned 18, she got this first tattoo, and since then, she has had other ink designs scattered all over her body.
Spherical Compass tattoo
The spherical compass is another tiny tattoo on Hailey's left wrist.
"Minas Gerais" tattoo
Although it seems like a quote, Minas Gerais tattoo, inked on her left outer ankle, is an enormous inland state in Brazil.
Heart tattoo
Unlike most of her tattoos which always have a story behind them, she had this tiny heart tattoo on her left collarbone. Hailey got it because she simply thought it was cute. The tattoo looks beautiful on her.
Hand Adornment Tattoos
Hailey Bieber has beautiful small tattoos inked on her fingers and hands. The hands' endowments entail stars, moon, dots, and beautiful flowers. Also, there is the letter "B" that likely represents her husband's and maiden names. She got these adorable tattoos on her hands and fingers in 2018, just a few days before her wedding to Justin Bieber. The tattoos are among Dr. Woo's incredible artwork.
"Gente" tattoo
Hailey Bieber's tattoo on her left hip spelled cursively as "gente," is a Spanish and Portuguese word translated to mean "'people.' Her best friend Mari Fonseca got a similar tattoo on her left rib cage.
Chevron Lines Tattoo
Hailey got these adorable two Chevron lines finger tattoos on her little right-hand finger done by JonBoy in 2017. She was attending Coachella for the Revolve influencer party that year.
"Coeur d'Alene" tattoo
Coeur d'Alene is a French phrase and one of the two back tattoos inked on Hailey's body. The tattoo is done by JonBoy and translates to mean Álene's heart'. Alene, in the phrase, is Hailey's sister's middle name.
"Unseen" tattoo
'Unseen' is Hailey's second tattoo inscribed on her back. The almost invisible word is inked down her spine. Her Christian faith inspires this tattoo. Based on JonBoy's Instagram post, the tattoo is based on 2 Cor 4:18 of the Bible.
Peach Emoji Tattoo
With these peach tattoos on her left hand, Hailey Bieber got it about her husband, Justin Bieber's hit single "Peaches." Dr. Woo did the tattoo, and her husband has a matching tattoo too. While Hailey has the peach tattoo on her arm, Justin's tattoo has his on his neck.
Lover and Cross Tattoos
Her religion inspired the cross tattoo design on her neck, which is evident that she is dedicated to her Christian faith. Apart from the cross design on the left side of her neck, she has other tattoos on other parts of her body that show her commitment to the Christian faith.
Just below the small cross design, Hailey has a lover tattoo in matching font and the same spot as her husband's Justin Bieber "forever" tattoo. Fans believe the tattoo could be about their love story.
"K" And "3:30" tattoo
The numbers represent John 3:30, a verse from the Bible as posted on Instagram by JonBoy, the star tattoo artist who inked it. However, there are no details on what the initial K inked on her left hand represents.
Diamond tattoo
She got this diamond tattoo in 2019. Hailey skipped the Oscars during this time to get the beautiful tattoo inked by JonBoy.
New York Tattoo
In December 2021, Hailey Bieber got a tattoo with the words "New York" under her ear and right below her tiny beautiful diamond tattoo. The words are in small cursive letters.
"J" And "Beleza" tattoo
Hailey Bieber got this J tattoo in honor of Justin Bieber, her husband. The ink is on the top side of her ring finger, and fans say it resembles the promise ring her husband Justin gifted his ex and actress Selena Gomez in 2012. The same day she had the J tattoo done, she also got Beleza inked on her neck. Beleza is a Portuguese word for beauty.
1996 tattoo
1996 is the year of Hailey Bieber's birth. She got this tattoo inked in 2018 on her right hip bone, about her birth year.
Ankle Heart tattoo
Hailey Bieber has a cute small heart ankle ink design on her left leg, similar to the one on her collarbone. The tattoo is among the first tattoos she got inked on her body. The beautiful ink heart design symbolizes passion, emotions, and love.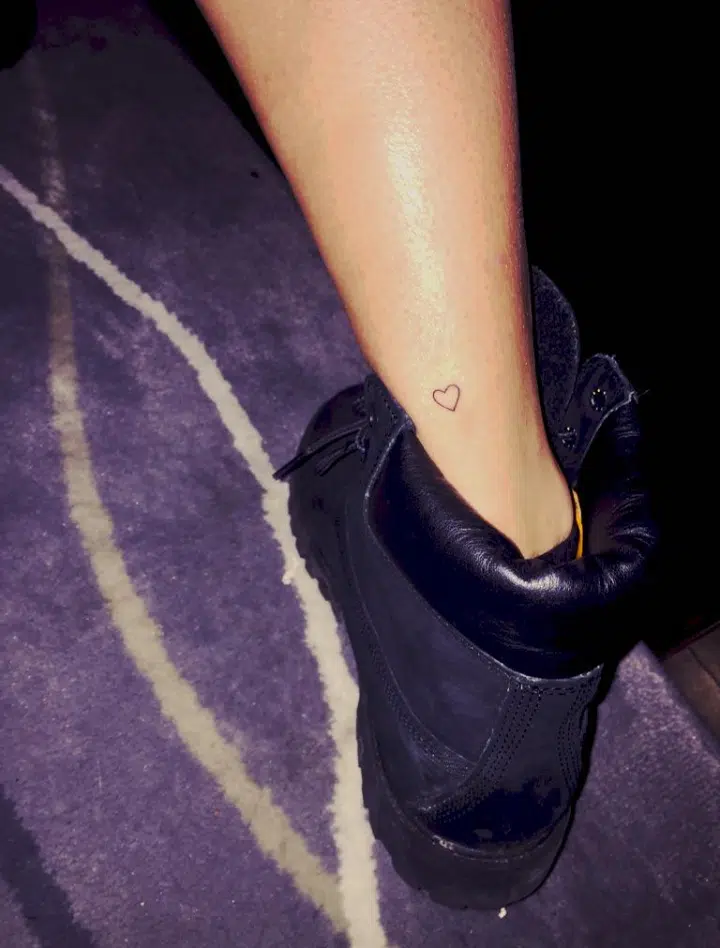 "Baldwin" tattoo
Together with her cousin, they got this matching tattoo with the word Baldwin on their middle fingers. Baldwin is Hailey's maiden name, and she got it inked in honor of their family name.
Handgun tattoo
Hailey Bieber got this tattoo done while she was young, early during her career, at 18 years old in 2015. The tattoo is on the inside of her left hand's middle finger. Although she got the satisfaction of having the design, after some years, while at 24 years old, she felt guns are violent, and she wouldn't like to have such a design.
"PRAY" tattoo
The model, Hailey Bieber, got this prayer tattoo in 2016. She got the letters "PR" inked on her left-hand index finger, and AY on her right-hand index finger was one of the ink designs Hailey got. When she brings the hands together, the two tats spell out "PRAY." The tattoo was done by JonBoy courtesy of her celebrity friend Kendall Jenner who designed it.
"Seek" Tattoo
Seek tattoo is about Zephaniah 2:3, a verse in the Bible. Hailey Bieber got this ink design on her neck in 2016 about her Christian faith.
Broken Hearts tattoo
Hailey Bieber, together with her friend Kendall got this matching tattoo on their fingers in 2015, during summer. While Hailey has a red ink broken heart tattoo, her friend opted for white ink.
G tattoo
This "G" tattoo is behind her left ear. The tattoo honors Georgia Veach, Zoe church's founding pastor's daughter. The pastor's daughter was diagnosed with lissencephaly, a rare and incurable brain disorder. Other celebrities, Ashley Benson, Justin, her husband, and Selena Gomez, have similar tattoos.
The Evolution of Hailey Bieber's Tattoos
Over the years, Hailey's tattoos have evolved from tiny, hidden symbols to more evident and audacious ones, reflecting her journey from a teenager in the public eye to a confident woman in her own right.
Conclusion
Hailey Bieber's tattoos are more than just ink on skin. They're a narrative, a form of self-expression, and, at times, even a trendsetter. Through these tattoos, we see glimpses of her life, passions, and beliefs. In a world where every story matters, Hailey's tattoos give us a beautifully inked chapter of her own.
Frequently Asked Questions About Haily Beiber's Tattoos
How many tattoos does Hailey Bieber have?
Over 20 and counting.
Who are some of the tattoo artists Hailey has collaborated with?
Notable artists include JonBoy and Dr. Woo.
Does Hailey Bieber have any tattoos with Justin Bieber?
While both have numerous tattoos, it's not confirmed if they have matching ones.
What was Hailey Bieber's first tattoo?
One of her earliest is the Roman numeral on her wrist.
Are all of Hailey's tattoos visible?
No, she has several subtle tattoos that can be easily overlooked.