Arrow tattoos are quite a popular design among ink enthusiasts because they can be sharply and well customized to your needs and desires. Even though arrow tattoos may look simple, they can symbolize something deep to you. Generally, arrow tattoos mean strength and hunter instinct as they were used historically for fighting, wars, animal hunting, and much more. It may also symbolize those who need a bit of guidance as the arrow tattoo will point you in the right direction. Given the narrow and straight design of arrows, the placement is crucial and ideally, you would ink it somewhere with large and enough space to ink a bold arrow, such as the arm and forearm.
Check out the most sharp arrow tattoo ideas right now to help your creativity and to find something inspirational.
Bow and Arrow Tattoos
The bow and arrow is a historically long-used weapon used to kill animals. A bow and arrow tattoo is an excellent design that is aesthetically appealing and looks excellent in a variety of places of your body. The bow and arrow represents power and strength.
Broken Arrow Tattoos
Broken arrows are useless in a battle because they won't serve is intended purpose. If you are struggling with some battle in your life, whether it's love, a friendship or other, this may come up to be an excellent tattoo for you. Snapped arrows can also symbolize the positive of overcoming those problems, becoming stronger and more focused on the future.
Feather Arrow Tattoos
Feathers have long been connected with many different civilizations as a symbol generally linked with knowledge, strength, and dignity on its own. Tribe warriors would ink a feather tattoo when accomplishing something significant in battle. The combination of a feather with an arrow has a lot of symbolic meaning since it represents independence and freedom.
Crossed Arrows Tattoos
When two arrows are crossed, they symbolize friendships and love. Crossed arrow tattoos are a common matching tattoo choice among friends and loved ones to celebrate their relationship.
Three Arrows Tattoos
Three arrows tattoos is a great matching tattoo for a group of friends or family. Three friends could get a three arrows tattoo that represents their lifelong connection to each other. It is a piece that symbolizes love and a strong relationship. Although, there are several interpretations of this ink, both in meaning and style.
Small Arrow Tattoos
Small tattoos are a great way to get inked without making a huge commitment and since they're small it's a great option for your first tattoo. A small arrow tattoo is perfect if you want to add a little something extra to your tattoo collection. Small tattoos can also be simply covered up if you have a more formal meeting or due to your work policy standards, it's a good option to keep your tattoo secret.
Matching Arrow Tattoos
Whether you have a strong relationship with a loved one, or a special friend, an arrow may be great for a matching tattoo. It is a tattoo that represents a strong bond, making it perfect for honoring those you care about.
Heart and Arrow Tattoos
A heart and arrow tattoo symbolizes people with passion and that is falling in love with another. It's a meaningful tattoo design that you can also get as a matching tattoo with your loved one.
Compass and Arrow Tattoos
Both the arrow and the compass points you in a direction and the combination of these two symbols is a meaningful tattoo that may represent a new chapter in your life, a shifting phase or optimism that you are going in the right direction.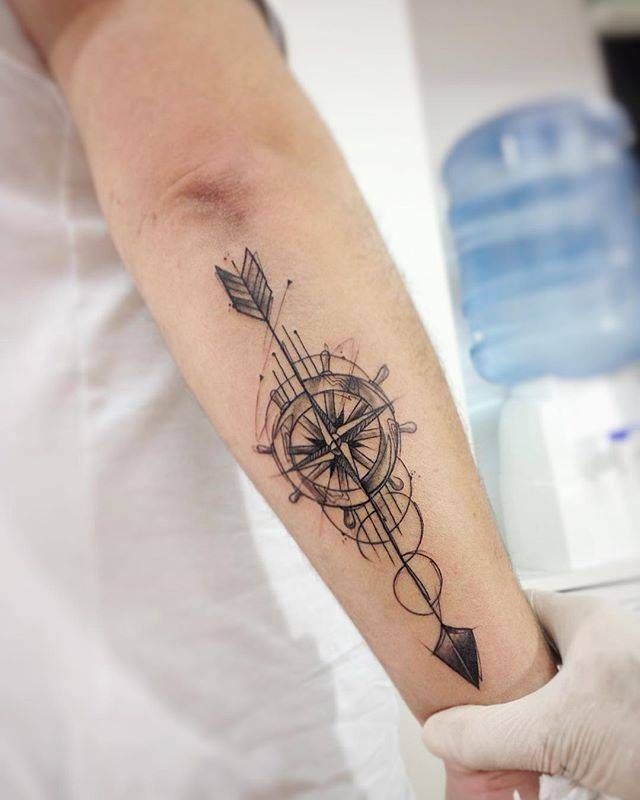 Name and Arrow Tattoos
Name tattoos are a wonderful way to express your love for the person whose name you have engraved. It doesn't have to be particularly big to send the message that you care about them. It's best to hire a fine lines artist for the task, similar to lettering tattoos. You don't want the words to fade or be so bold that it's difficult to read the script.
Geometric Arrow Tattoos
Geometric tattoos have been popular for many years because they give a feeling of balance symmetry and sometimes even mystery. Geometric tattoos match very well with an arrow tattoo because they are timeless and you can't go wrong with them, as they always look great in the end. They are also very versatile and you can tattoo them anywhere on your body.
Minimalist Arrow Tattoos
In life, simple things are the best and if you believe in that, a minimalist tattoo is a style for you. Minimalist tattoos are all about simplifying the design using lines, minimum shading, and minimal details. Negative space not only adds appeal to your body art, but it also makes it less painful. Another advantage is that the tattoo session will be quicker and less expensive than if the artwork required a lot of detail or color.
Tribal Arrow Tattoos
Tribal tattoos are becoming increasingly popular among the tattoo community due to their intricate and eye-catching designs. The historical tribal people used arrows for hunting and protection.
Where to get an arrow tattoo?
An arrow tattoo can be inked anywhere you would like to, although arrow tattoos are seen most commonly in the forearm, arm, wrist, fingers and spine, as you might have noticed during the article. Here are some of the greatest places to get an arrow tattoo.
Forearm Arrow Tattoo
Forearm tattoos are one of the most trendy and flexible tattoo locations and you'll be able to see your tattoo every day and show it off to others or hide it with a shirt if necessary. The forearm is the most common place to get an arrow tattoo and it will look amazing because they can be inked in a realistic or minimal way.
Hand Arrow Tattoos
Arrow tattoos represent strength, hunter instinct but also love and affection, and the arrow can be designed on a simplified and small scale to fit your hand. Hand tattoos are becoming increasingly popular, although keep in mind that getting a hand tattoo is a lot of commitment. Even if you wear a long-sleeved shirt, your hands will be always visible, unless you use gloves.
Finger Arrow Tattoos
The popularity of finger tattoos has been rising over the past few years because these tattoos are very small and they can have a lot of meaning. Even though finger tattoos may have a reputation for being reserved for rebels, they can be entirely customized and you can have one in practically any style—meaning you can get one that's uniquely you.
Wrist Arrow Tattoos
Wrist tattoos are always a versatile and distinctive alternative place to ink a meaningful tattoo. A wrist arrow tattoo is great because you'll be able to see it every day and remind you of something deep in your life.
Spine Arrows Tattoos
Arrows make the perfect spine tattoo because they are narrow and straight in shape, fitting your whole spine. Whether it's a spine or back tattoo , it will look awesome and it's really easy to hide or show off if you want.
---
Arrow Tattoos Frequently Asked Questions
What does an arrow tattoo mean?
Arrow tattoos symbolize strength and hunter instinct as they were used historically for fighting, wars, animal hunting, and much more. It may also symbolize those who need a bit of guidance as the arrow tattoo will point you in the right direction.
What does a three arrows tattoo mean?
What does a bow and arrow tattoo mean?
The bow and arrow symbolize power and strength as they were a historically long-used weapon used to kill animals.
What does a broken arrow tattoo mean?
Broken arrows symbolize the positive of overcoming those problems, and becoming stronger and more focused on the future.