Chandelier tattoos have become more popular among women. Chandelier tattoos are one of the most elaborate and detailed tattoo designs out there. A chandelier is a huge, beautiful frame that holds light bulbs or candles, as well as embellishments like crystals, pearls, and chains. They frequently depict a baroque or gothic style related to the past, and their gleaming materials make them appear exceedingly rich. Chandelier tattoos look great under women's breasts, as well as on shoulders, thighs, and backs. It's usually paired with lotus and mandala-inspired tribal designs.
Check out the most gorgeous chandelier tattoo ideas right now to help your creativity and to find something inspirational.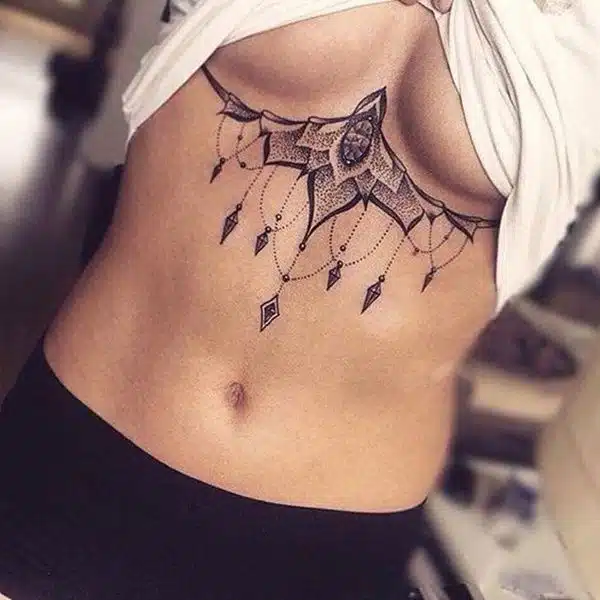 Under Breast Chandelier Tattoos
A chandelier tattoo under the breast will simply look amazing and it will be an eye-catching feature of your boobs. While in-between breast tattoos tend to separate your books, a under breast tattoo, especially a chandelier, will make it sexier by highlighting the roundness of the boobs.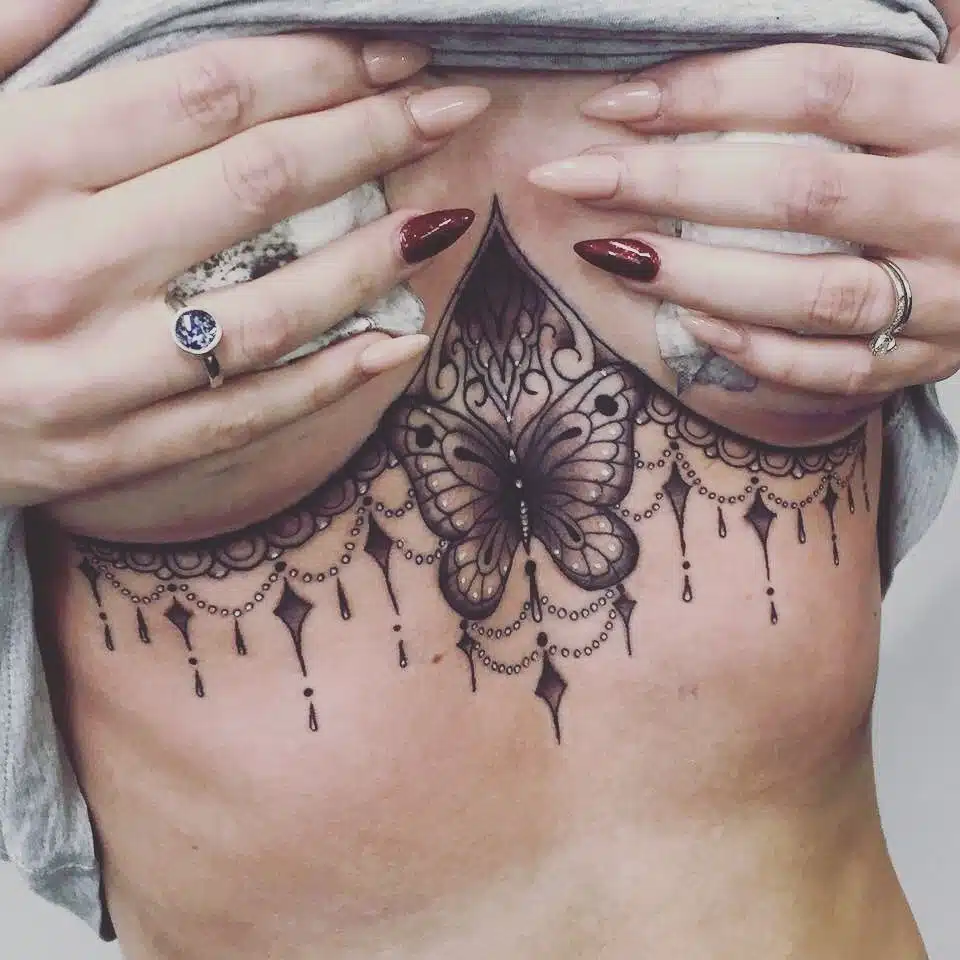 Simple Chandelier Tattoos
A simple chandelier tattoo is a perfect option for women who don't like to ink large and bold tattoos. The chandelier is already a very detailed design, so by keeping it simple, you are also saving time under the needle.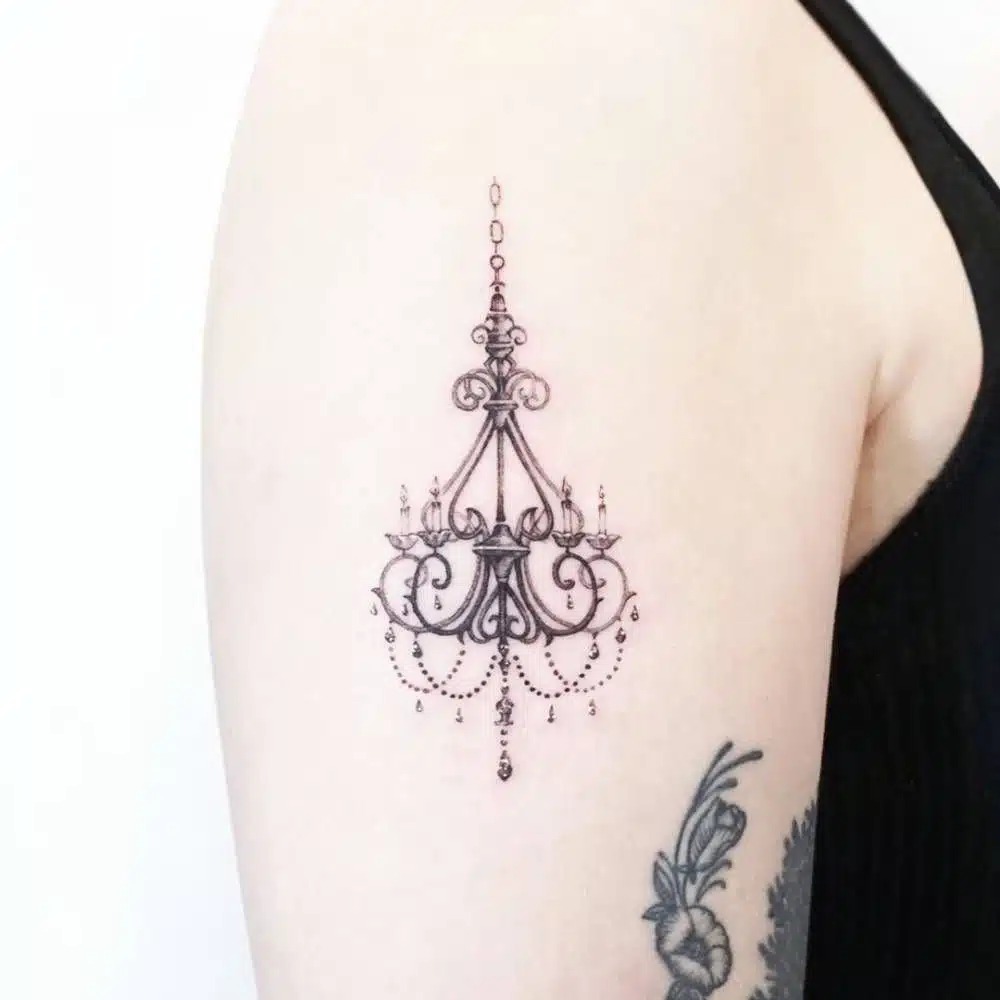 Sternum Chandelier Tattoos
The sternum is the region between your breasts in the middle. It's a favorite spot for women who want a gorgeous chandelier tattoo that can be hidden. The sternum is a long, thin breastbone that connects the rib cage and protects the critical organs in the chest.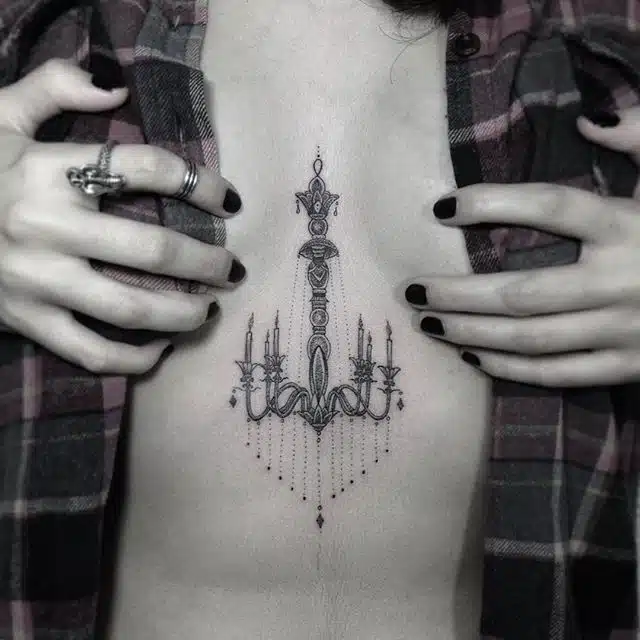 Thigh Chandelier Tattoos
Thigh tattoos can be subtle or stunning, drawing attention to the legs and lower body. Not only are your thighs one of the best places for bigger tattoos, but they're also low on the pain scale and easy to conceal with clothing. Thigh chandelier tattoos will look great, especially when you use a dress that can reveal them.
Back Chandelier Tattoos
Back tattoos are very popular due to its versatility; it is large enough to accommodate medium-big pieces of design, but it also looks great with small and basic inkings. A back chandelier tattoo may look really good on your back when centered on top or going down your spine.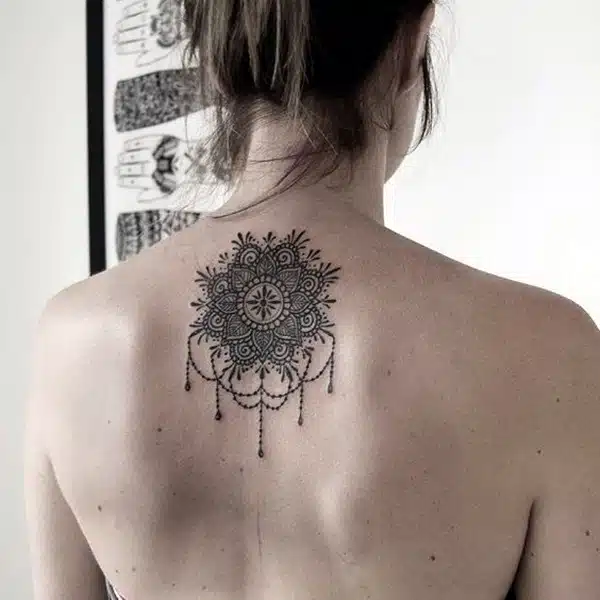 Ankle Chandelier Tattoos
Ankle tattoos are one of the most popular tattoo locations for women. Small tattoos work better in this region because of the lack and complexity of the space. The ankle is the perfect place for a chandelier tattoo because you can make it wrap around and it will look great.
Wrist Chandelier Tattoos
Wrist tattoos for women are becoming increasingly popular being one of the most versatile and distinctive locations for women's tattoos. A chandelier wrist tattoo just like the ankle, is really great because you can make a wrap around the wrist, making it look like a bracelet.
Chest Chandelier Tattoos
In the past few years, chest tattoos for women have become more widely accepted, and more women are starting to get them. A chest tattoo for women is a great location to show off your chandelier tattoo. Whether it's a small or big tattoo, the chest is a fantastic place to do so.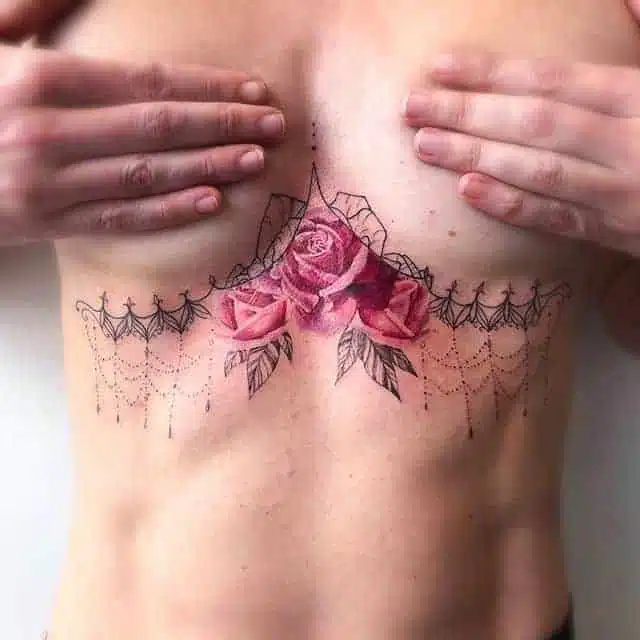 Forearm Chandelier Tattoos
Forearm tattoos for women are becoming increasingly popular being one of the most flexible locations for a tattoo. A chandelier forearm tattoo is a great choice because you can see it and show it off every day, or simply hide it with a shirt if necessary.
---
Chandelier Tattoos Frequently Asked Questions
What do chandelier tattoos mean?
Chandelier tattoos are generally associated with luxury and prosperity during times such as the Roaring Twenties, and are often associated with elegance and beauty. A chandelier is associated with clarity of vision and purity due to its capacity to cast stunningly sparkling light.
Do chandelier tattooos hurt?
A chandelier tattoo may hurt like any other design, depending on the are of your body you ink it. Although, chandelier tattoos are usually inked in under the breast, so bear in mind that this is a sensitive area and you should anticipate that it may hurt.