Forearm tattoos for men are one of the most trendy and flexible tattoo locations for men. You'll be able to see your tattoo every day, and you may show it off to others or hide it with a shirt if necessary. There are amazing forearm tattoos out there for everyone, from complex sleeve artwork to basic and simple designs. Furthermore, if this is your first tattoo, it is one of the least painful areas on your body to tattoo.
Check out the most popular forearm tattoos for men right now to help your creativity and help you find something inspirational.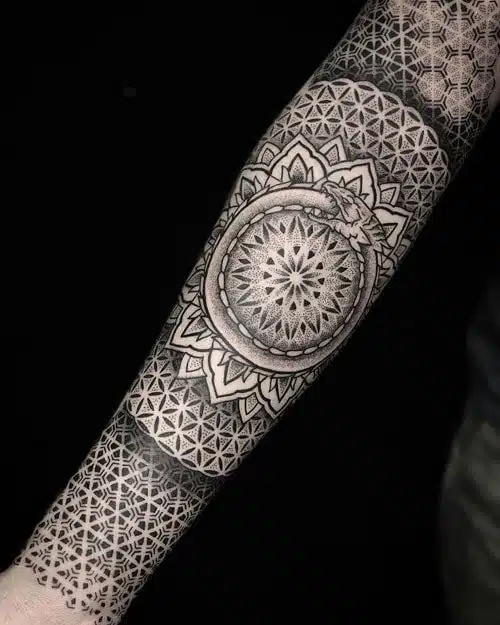 Inner Forearm Tattoo
A tattoo on the inner forearm is a great location because you can roll up your sleeve and show off your tattoo. In this location, a more delicate or smaller design could be more appropriate if it's your first ink, as inner forearm tattoos could be painful, especially, when the needle gets too close to your elbow.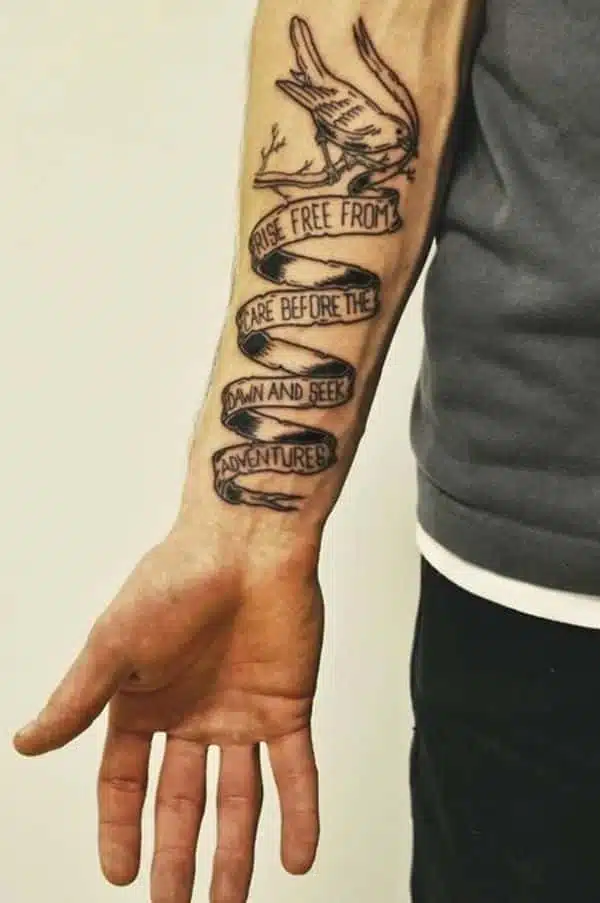 Outer Forearm Tattoo
The outer forearm is a popular choice because it is one of the least painful places to get a tattoo. It's an ideal placement if you want a tattoo that you can cover up or show off. Because the outer forearm is a straightforward area of the body to tattoo, it's great for inkings that are more comprehensive and intricate.
Side of Forearm Tattoo
The side of the forearm could be a great location for a straight and narrow tattoo, such as an arrow. Although, something like flowers, roses, skulls, snakes, could fit the area you want to tattoo.
Forearm Sleeve Tattoo
A forearm sleeve tattoo, or a half-sleeve, is a daring body art choice. You'll get a lot of attention no matter what design you pick. Half-sleeve tattoos are a fantastic method to incorporate a variety of creative styles. To link different tattoos, your artist might use shading, flowers, or other shapes. If you want to show off a large and detailed design like a tribal pattern, forest, portrait, or religious tattoo, a forearm sleeve is also a good choice.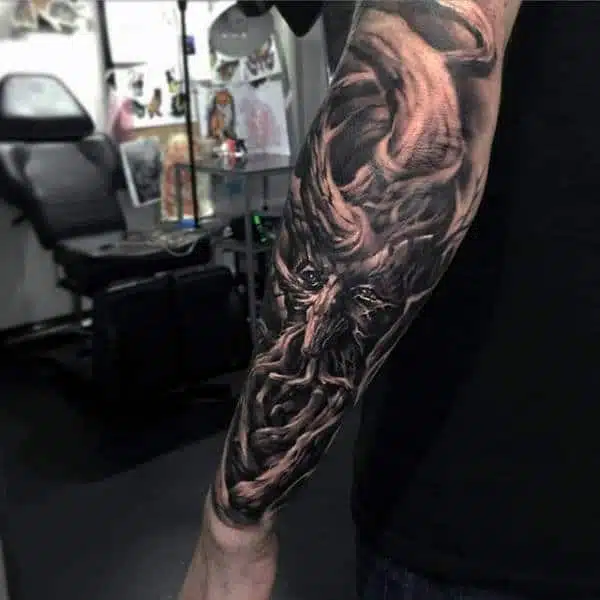 Armband Tattoo
Armband tattoos have long been a popular choice, but only recently have they become more mainstream. Armband tattoos were fashionable in the last few years, and quickly became one of the most popular patterns.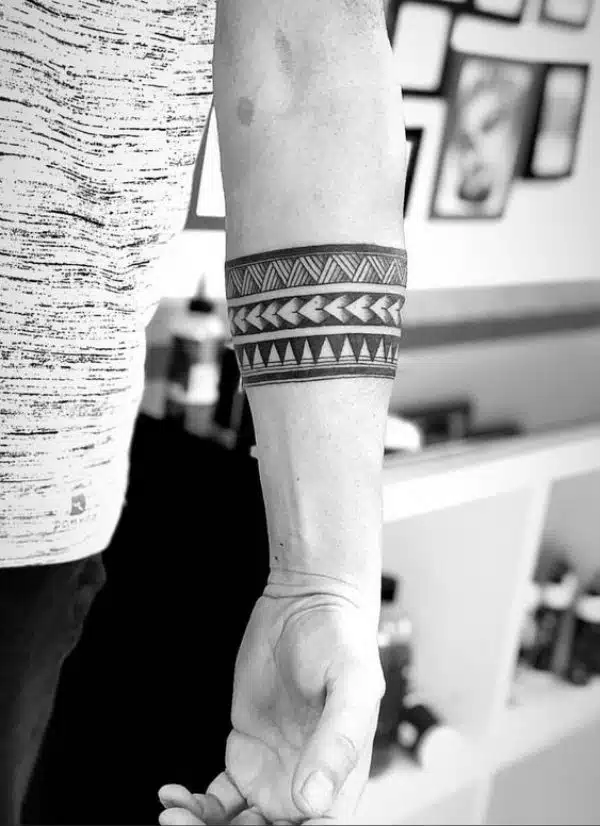 Animal Forearm Tattoo
When it comes to tattoos, it's clear to see why animals still are a popular choice among mens of all types. In reality, there are a wide range of options, including tigers, lions, frogs, and birds, just to name a few. All of them have their own unique meaning and symbolism.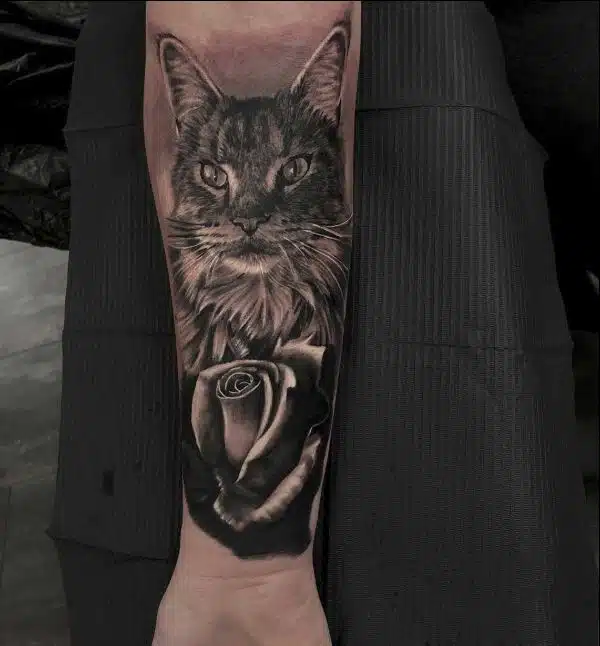 Wolf Forearm Tattoo
The wolf is one of the most stunning tattoo designs. Wolfs have a reputation for being uncontrolled, vicious predators, but on the other hand, they create close family groupings and are loyal to their partner and cubs. As a consequence, a wolf tattoo signifies devotion as well as power and endurance. Because wolves can see in the dark, they are regarded as a protective emblem in many civilizations. If you share these characteristics, a wolf tattoo might be the ideal addition to your forearm art.
Tribal Forearm Tattoo
Forearm tattoos are one of the most trendy and flexible tattoo locations. You'll be able to see your tattoo every day, and you may show it off to others or hide it with a shirt if necessary. A tribal forearm tattoo may be a great way to connect with your ancestors.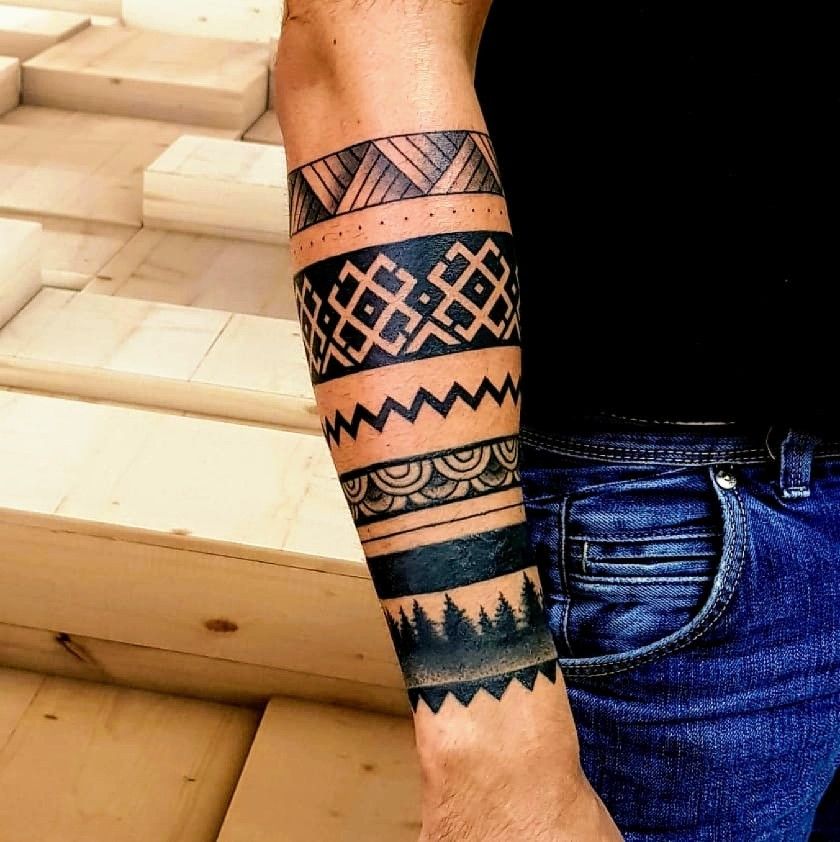 Owl Forearm Tattoo
Owl tattoos are linked with wisdom and intelligence, so they would be a good choice for someone who enjoys studying or has recently graduated. These birds are noted for their ability to sight in the dark and are most active at night. As a result, they symbolize the power to overcome adversity or sadness. Owls may also be a protective sign that guides you through a difficult situation.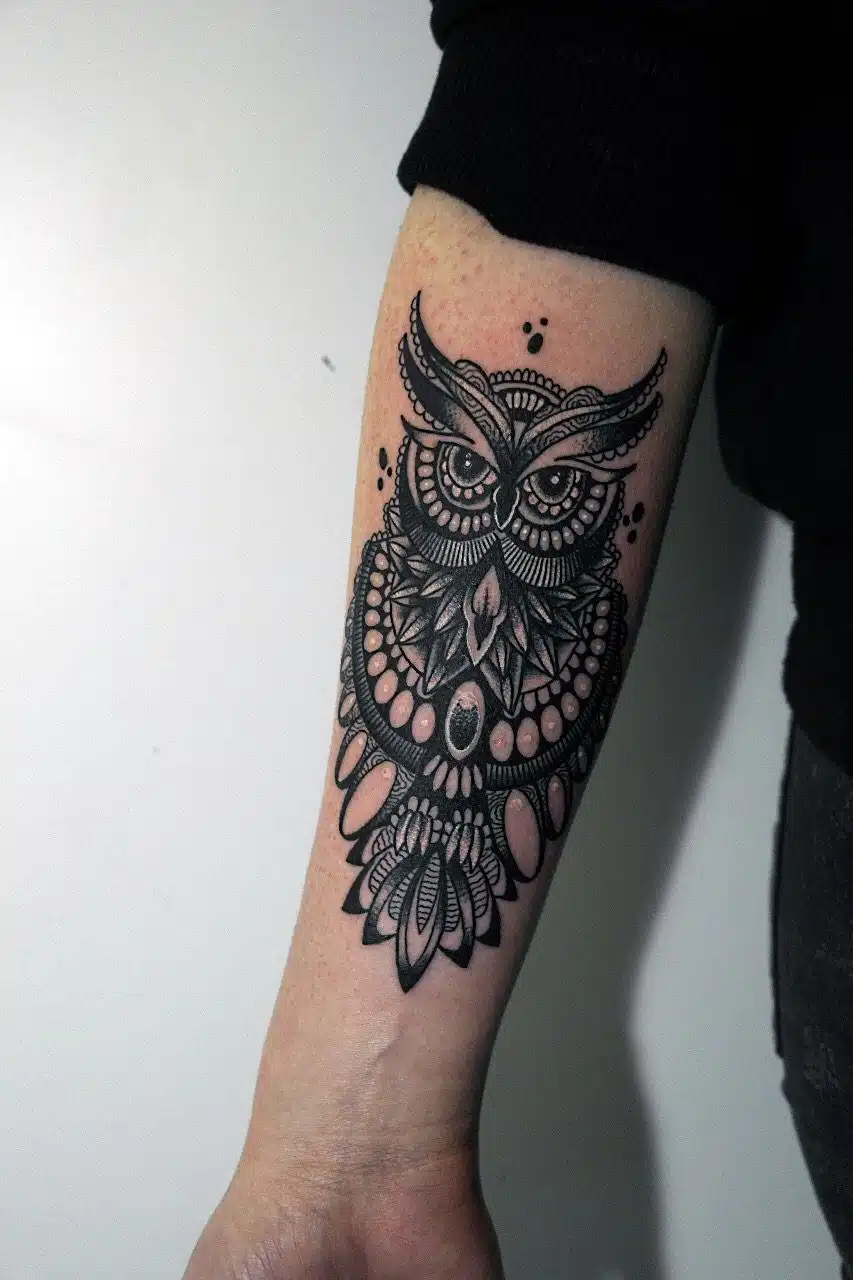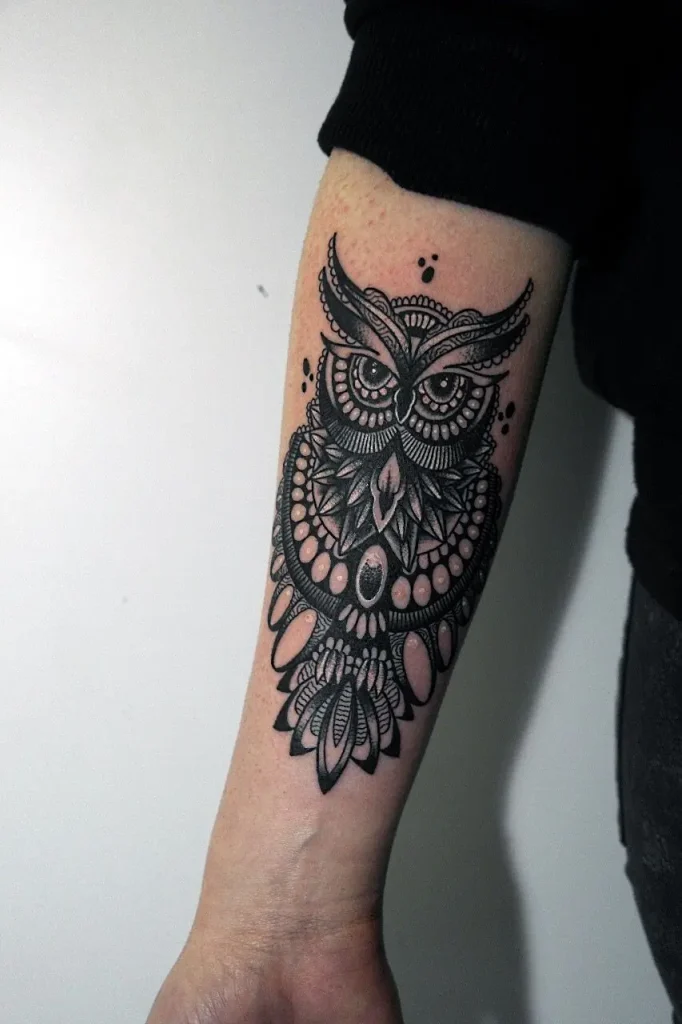 Nature Forearm Tattoos
If you are a fan of nature and outdoors, this might be an excellent choice for a tattoo. Nature tattoos can symbolize different things, for example, trees represent life, the ability to transform and grow, while mountains mean consistency and state of absolute consciousness.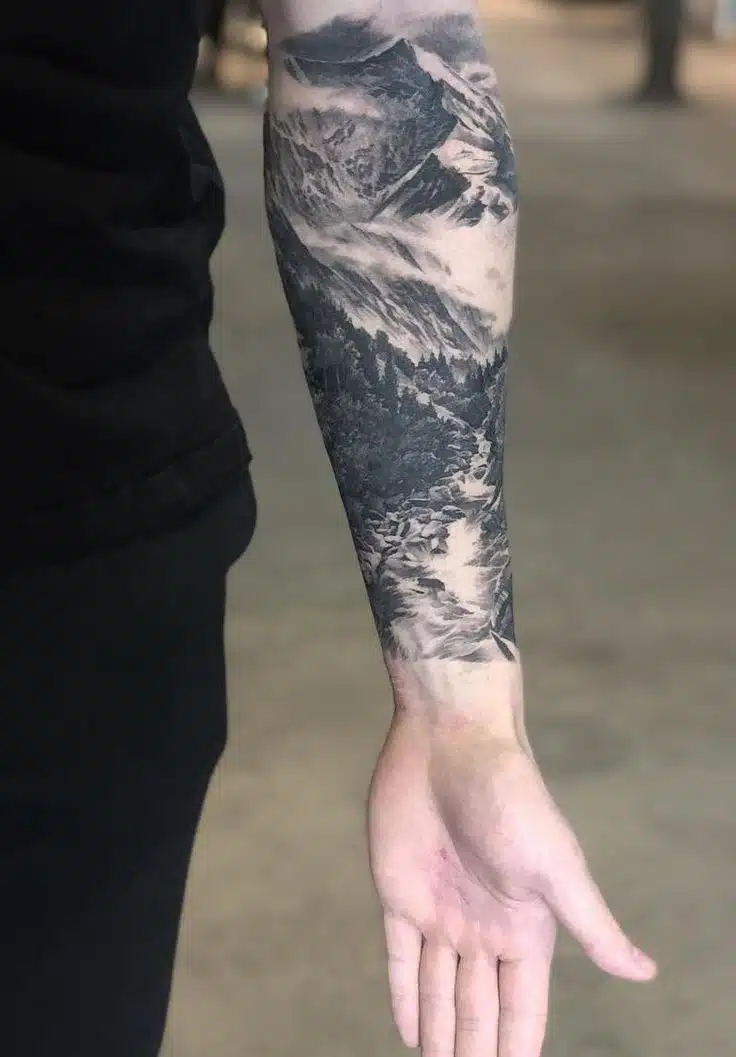 American Flag Forearm Tattoo
Some men consider patriotism to be one of life's most essential aspects, which is one of the main reasons they would get an American flag tattoo on the forearm. They want to demonstrate their love and respect for the flag, therefore they proudly display it on their bodies.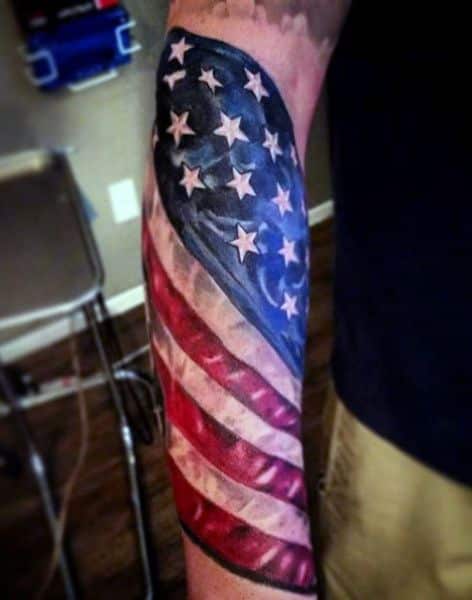 Geometric Forearm Tattoo
Geometric tattoos have been popular and common for a long time. They may be used to lend a modern minimal touch to a design, but they also look great on their own. These geometric tattoo designs appear to be simple at a first glance, but the closer you look, the more depth and intricacy you find.
Minimal Forearm Tattoo
Who doesn't like a minimal look design? Sometimes your tattoo doesn't have to be much complex, instead, you can opt for a minimal tattoo that will look awesome as well. This could be an excellent option for a first tattoo as it can be painless compared to larger tattoos.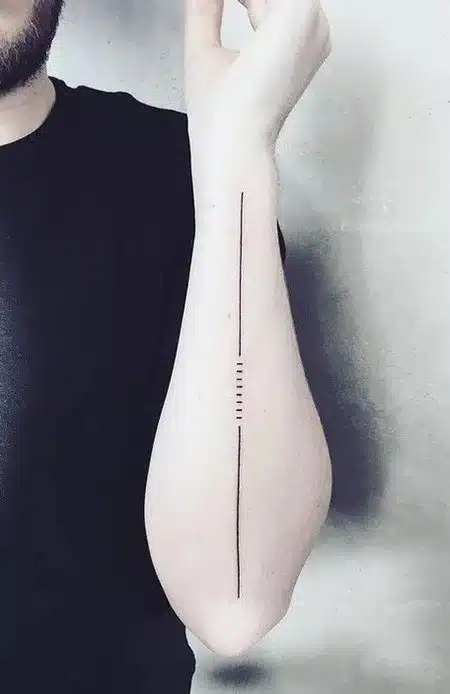 Small Forearm Tattoo
A small tattoo is ideal if you're getting your first tattoo or are unsure about your pain tolerance in the forearm. It's also a good option if you like a more basic look or can't have huge tattoos at work. The simpler the better when it comes to small tattoos. Consider using a slogan, initials, or a little geometric pattern. For tiny tattoos, people usually select forms like circles and triangles.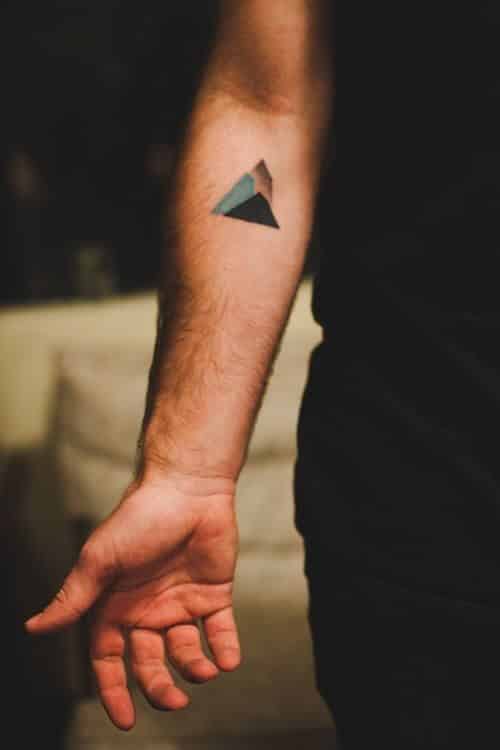 Arrow Forearm Tattoo
Arrows tattoos have a lot of metaphorical meaning, but they're also a lot of fun to play with. An arrow is admired by both expert tattoo artists and beginners. Because of their long, thin, and angular shape, arrows look excellent on your forearm.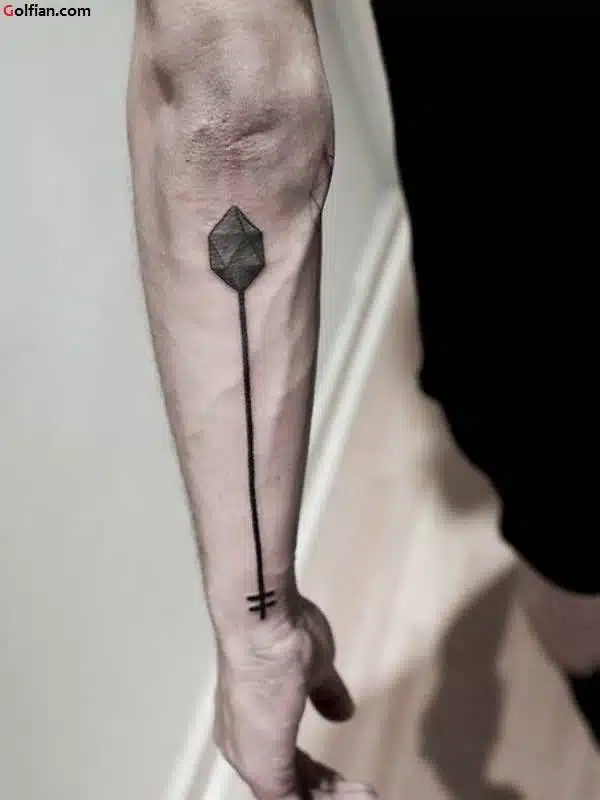 Compass Forearm Tattoo
The compass tattoo has long been a favorite among fishermen, sailors, Navy officers, and other individuals who enjoy the sea. While some people believe that getting a nautical compass tattoo would help them return home, it's safe to say that getting a great tattoo is always a badass way to show off your enthusiasm.
Quote Forearm Tattoo
Quote tattoos can have the meaning you want, as the message will be in the quote itself. You can write a whole phrase or just a word. Song lyrics, movie lines, or wise remarks may all be used to create a powerful and meaningful tattoo. Cursive lettering or calligraphy, may give your artwork a distinctive touch and make it more creative.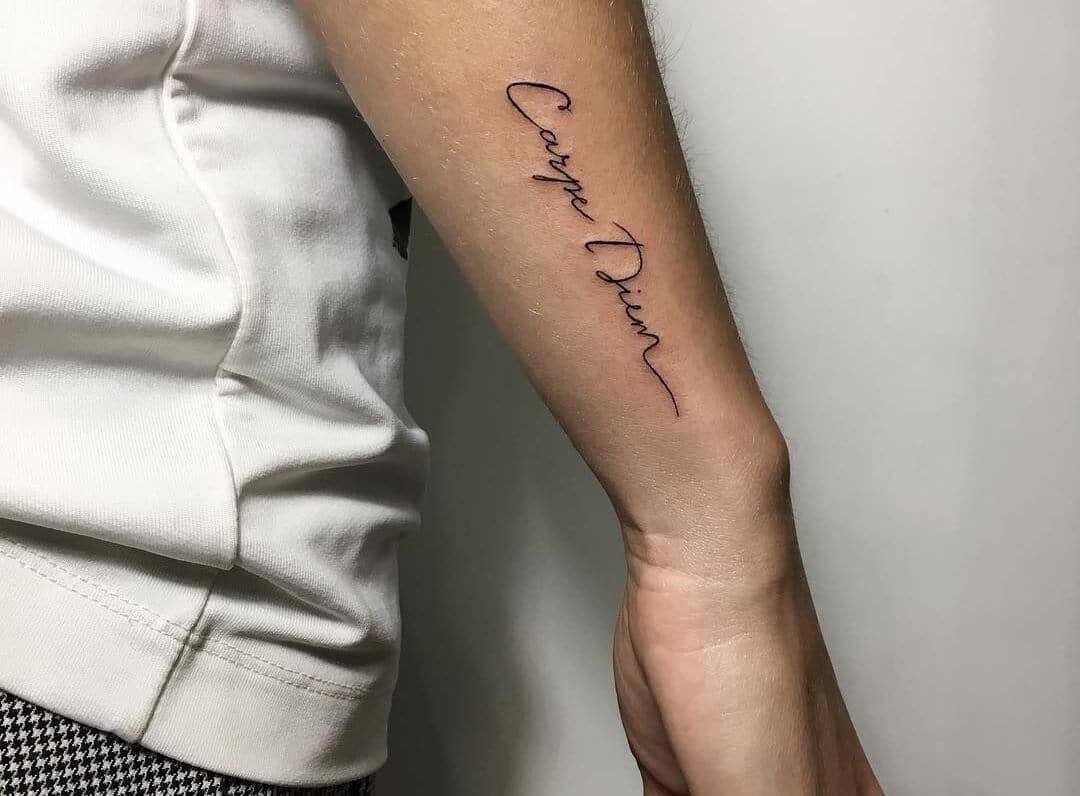 Cool Forearm TATTOOs for men
Find some cool tattoo ideas for men to enlighten your creativity.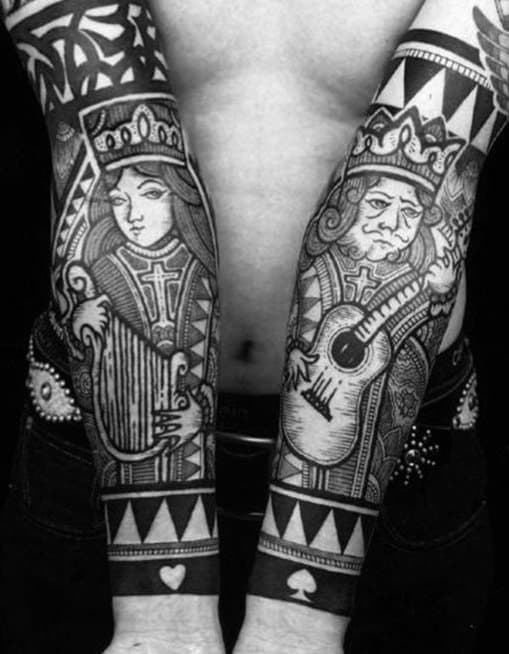 ---
Forearm Tattoos Frequently Asked Questions
Do Forearm Tattoos Hurt?
One of the least painful locations to get tattooed is the forearm. There aren't too many sensitive regions of bone or nerve endings in this area, so it's nice and squishy. A forearm tattoo is a wonderful place to start if you're worried about an unpleasant experience. Although, in the inner forearm, because of the radial nerve that runs through it, a forearm tattoo may be unexpectedly painful and uncomfortable.
What direction should forearm tattoos face?
Tattoos on the forearm are usually placed right side up, facing down so others can see it in full and you can only see it in a mirror.
How long does a forearm tattoo heal?
The forearm is an area of the body that comes into touch with clothes, so take care of the healing process more carefully. Forearm tattoos typically heal in 3-4 weeks, however full healing under the skin can take up to three months. Consider getting only one forearm tattooed at a time if you intend on getting both hands tattooed.