Johnny Depp, a very well-known actor, is one of Hollywood's most tattooed celebrities. Johnny got a few temporary tattoos here and there, and it's difficult to keep track of all of them. Johnny Depp's tattoos have been claimed to have a specific meaning for him, and all of his tattoos are very personal. The majority of his tattoos honor his friends and family. He is also known to change his tattoos from time to time to reflect his current dating status. The following is a comprehensive list of Johnny Depp tattoos and their meanings:
Check out all of Johnny Depp's tattoos and their respective meanings.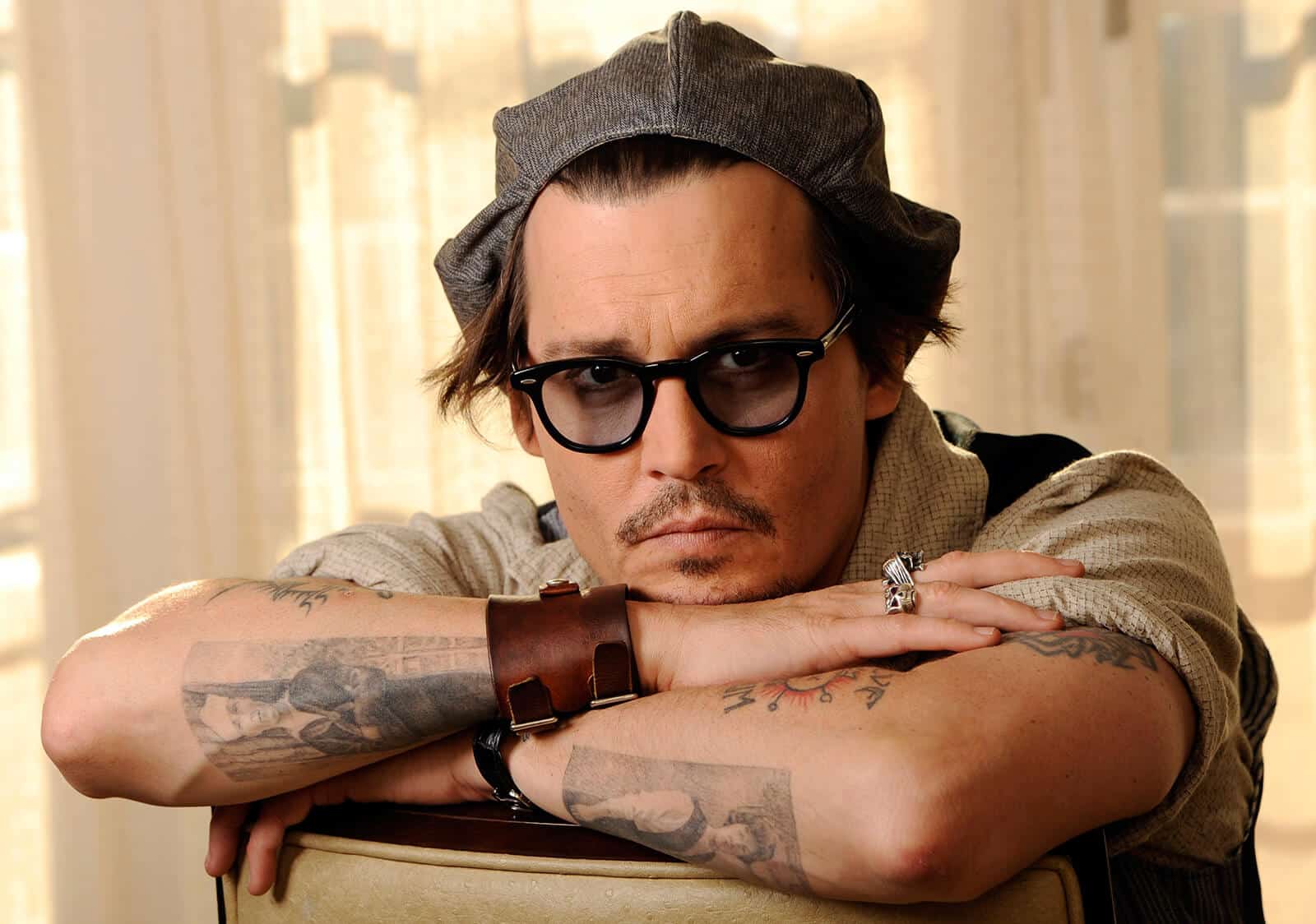 UPDATED: Johnny Depp's New Tattoo after trial victory (2022)
One month after winning defamation trial against his ex-wife, Jonny Depp is said to have inked a broken arrow tattoo on his left inner wrist. According to The SportsGrail, the new tattoo was inked by three professional artists (Aleksander, Jonathan, & Tomas from Attitude Tattoo Studio in Oslo) and it symbolizes "submerging the fighting axe, a fresh start, and it is a new hope."
---
"Wino Forever" Tattoo
While filming for "Edward Scissorhands", Johhny got the tattoo for his ex-girlfriend Winona Ryder, whom he began seeing in 1990. After breaking up with her in 1993, Johnny Depp had this tattoo changed to "WINO FOREVER".
Johnny Depp Hand Tattoos
Johnny Depp is no stranger to hand tattoos. In fact, the actor has several hand tattoos which we'll see right below.
Crow Tattoo
In 2012, Johnny Depp got the crow tattoo to demonstrate his support for the film of Brandon Lee, "The Crow". For those unfamiliar, The Crow is a film in which the protagonist returns to life in order to revenge for his murder. Brandon Lee, the principal actor, died unexpectedly while filming due to a genuine gunshot wound.
Number 3 Tattoo
Johnny Depp feels that 3 is a mystical number. In an interview in April 1996, he stated "Three is a sort of special number for me. It's a very creative number. Triangle, trinity — you know, two people make another person. Three is a mystical, magical number."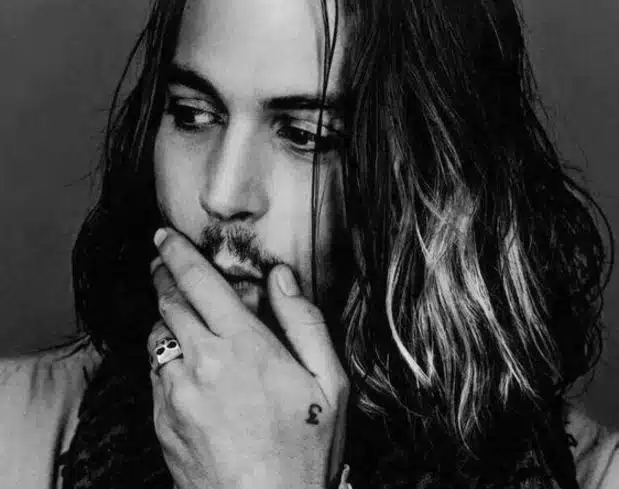 Zig zag Tattoo
On his left hand, Johnny Depp has a Zig zag tattoo and it has something to do with Native American culture. On May 22, 2012, Johnny's pal Damien Echols tweeted that he had gotten an identical tattoo on his left hand. He wrote on Twitter: "I got a similar tattoo on my left hand in honor of my friend who was brought into the Comanche Nation. The "Z" or the zigzag is a common Native American symbol. The straight horizontal line in Native American glyphs represents movement upon Mother Earth and closing connections with Father Sky."
Three Rectangles Tattoo
Johnny Depp got three reactnagles inked in his right hand index finger in September 1994 and he once called them "permanent phone doodles."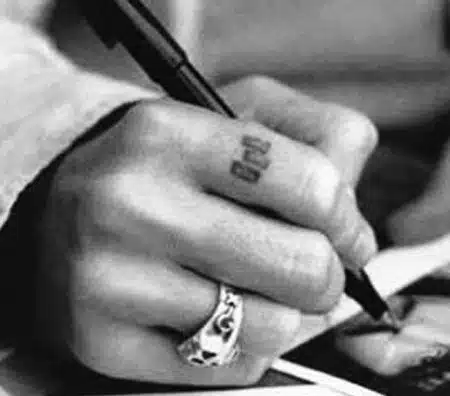 "SCAM" Tattoo
Johnny had a tattoo of his ex-wife, Amber Heard's nickname, "SLIM" but which he subsequently changed to "SCUM" in the aftermath of their divorce in 2016. Although, in 2018, Johnny had it changed again to the term "SCAM" using the anarchy "A" symbol.
"Betty Sue" Tattoo
Johnny has a heart tattoo with the words "Betty Sue" inscribed across it on his left arm. Johnny's mother's name was Betsy Sue, and she died on May 20, 2016, after a long illness. The tattoo was done on his left arm by tattoo artist Johnathan Shaw on May 31, 1988, several years before her death.
Cherokee Tribe Tattoo
Johnny inked his first tattoo, a "Cherokee Tribe", when he was 17, to celebrate his Cherokee heritage. His great-grandmother was Cherokee. His great-grandmother was Cherokee, so the ink was done to celebrate his Native American background.
Jack Sparrow Tattoo
Johnny's Jack Sparrow tattoo on his right forearm is identical to that of his Pirates of the Caribbean character, Jack Bird — but Johnny's Jack Sparrow tattoo is flying away instead of towards him. Johnny had this tattoo done by tattoo artist Mark Mahoney in 2003, after the filming was over. Captain Jack Sparrow's tattoo depicts the bird flying away from him, whereas Johnny Depp's depicts the bird flying towards him and his son, Jack, born in 2002.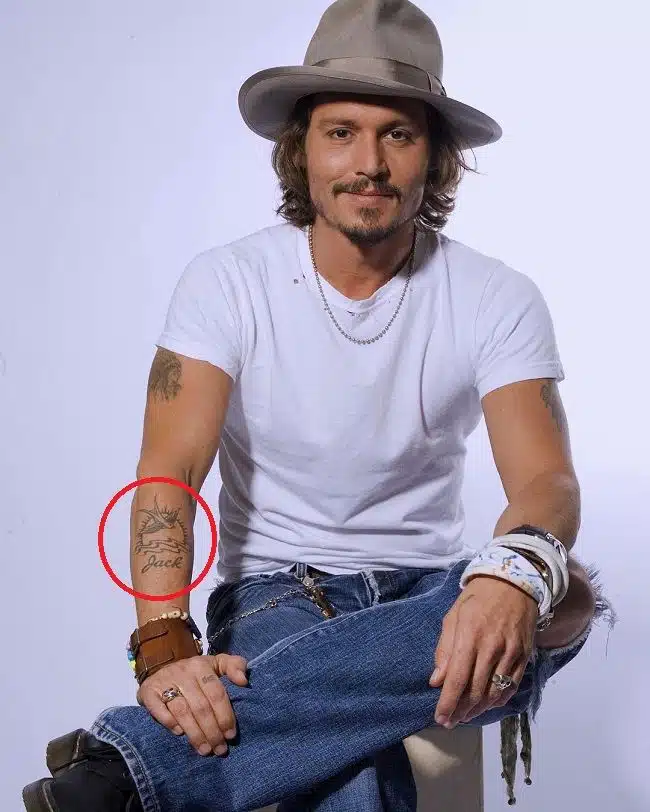 Suprematism Triangle Tattoo
Johnny has a tattoo of a "suprematism triangle" on his left shoulder, based on a 1925 painting by Russian painter Ilya Chashnik. In 1993, Jonathan Shaw re-inked the design. Suprematism, a Russian variant of Cubism and Futurism, has been described as "the proper form of representation is always the one that allows maximal potential expression to feeling as such and avoids the recognizable look of objects," according to Britannia.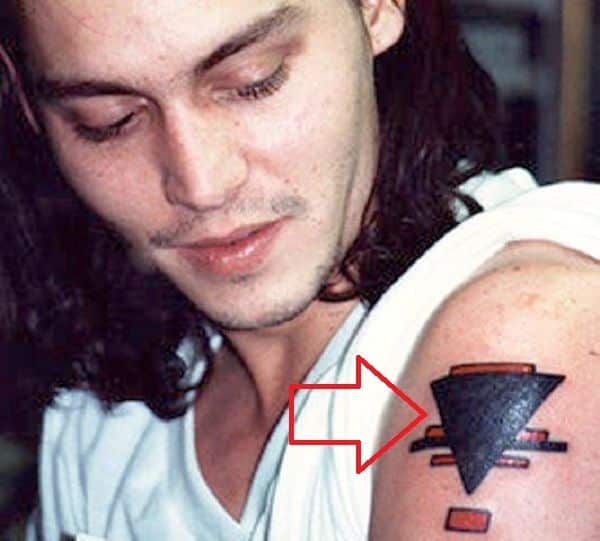 "Lily-Rose" Tattoo
Johnny has the name of his and Vanessa Paradis' firstborn child, Lily-Rose Depp, tattooed on his chest. Jonathan Shaw, the tattoo artist, tattooed this tattoo in November 1999. Johnny characterized Lily's birth as a life-changing experience in an interview. In 1988, in an interview, he stated "My daughter made me understand, helped me understand, why there is life and why I should live, and why I wake up in the morning and why I want to continue this funny road I'm on."
"The Brave" Tattoo
Johnny has a strange design inked on his right forearm: a stitched mouth face with a question mark above its head. The design is based on the logo of "The Brave", a 1997 indie neo-western film co-written and directed by Johnny Depp.
Question Mark Tattoo
Jonathan Shaw, a tattoo artist that inked several tattoos on Johnny Depp, has tattooed a "question mark with a little cross" on Johnny's right calf in 1991. Jonathan tattooed the same design on the left knee, inked by Johnny Depp.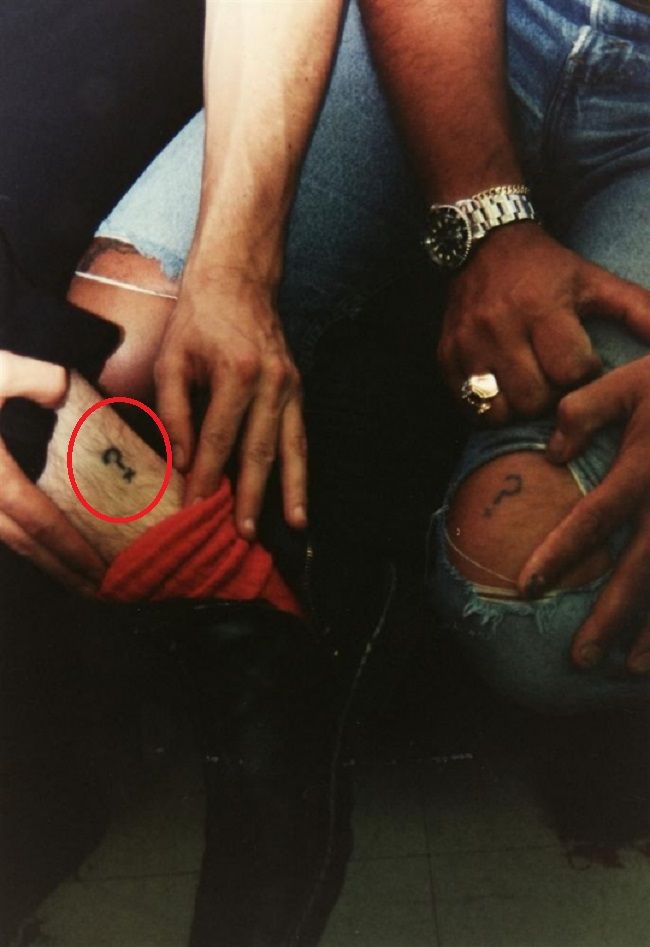 "Silence Exile Cunning" Tattoo
"I will try to express myself in some mode of life or art as freely as I can and as wholly as I can, using for my defense the only arms I allow myself to use — silence, exile, and cunning." said Johnny Depp to the brand Beverly Kills.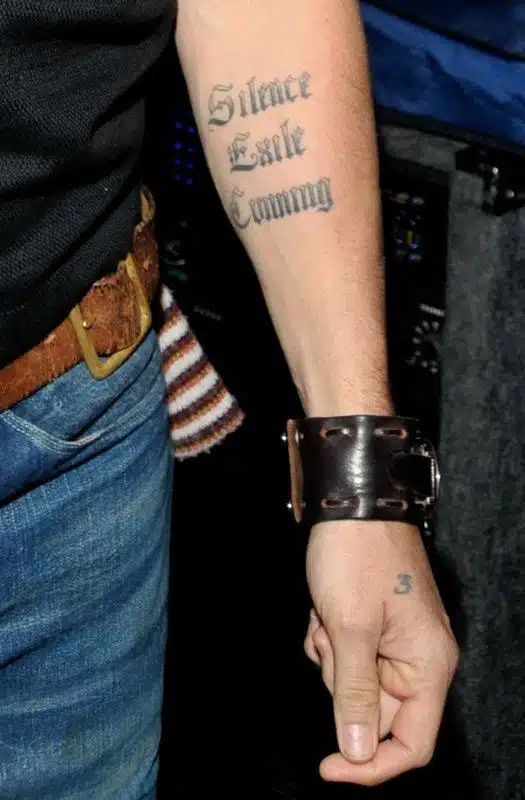 Three Heart Tattoo
Johnny's left bicep is adorned with a string of three hearts in honor to his ex-wife, Vanessa Paradis, and their two children, Lily-Rose Depp and Jack Depp. The pair divorced in 2012, although they remain close. The tattoo has three red hearts, two of which are linked, symbolizing the children's relationship.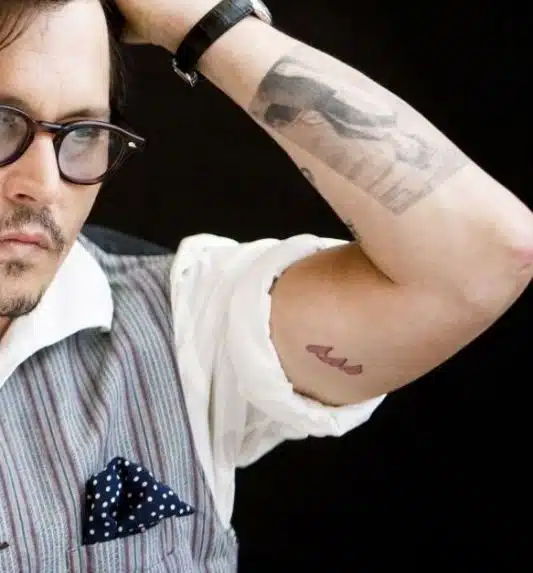 Mother's Portrait Tattoo
Johnny has a black and white portrait in memory of his mother (Betty Sue), who died in 2016. The photograph is said to be a picture of Betty Sue taken while she was working as a server at the Holiday Inn in Kentucky.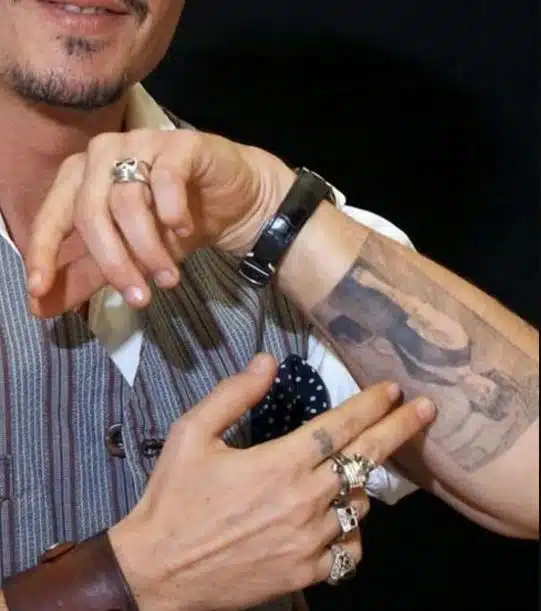 Grandfather's Portrait
Johnny adored his grandfather, Jim, who died when he was just nine years old. Johnny was asked about this tattoo in an interview with Vanity Fair magazine, and he said that it is a depiction of his grandfather.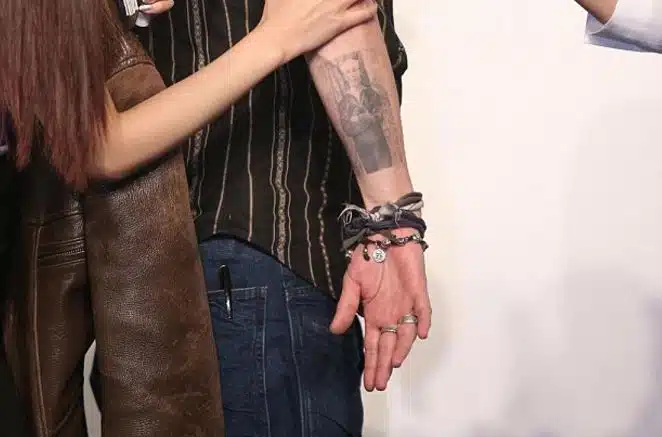 Gonzo Fist Tattoo
According to Newsweek, Johnny Depp first met Hunter S. Thompson in December 1994. "It was from that very second, when he sat down, that I recognized before me the very definition of a Southern gentleman. We connected on the level of both being from Kentucky, both having checkered pasts in our youth, and a great love of literature," Depp wrote in 2011.
Depp and Thompson had a connection for nearly a decade, which regrettably ended with Hunter's death in 2005. Johnny played Hunter in both the 1998 production of Fear and Loathing in Las Vegas and the 2011 adaptation of Hunter's novel The Rum Diary (Johnny would first meet his future ex-wife, Amber Heard, on that film.) Johnny honored Hunter by getting a tattoo of him.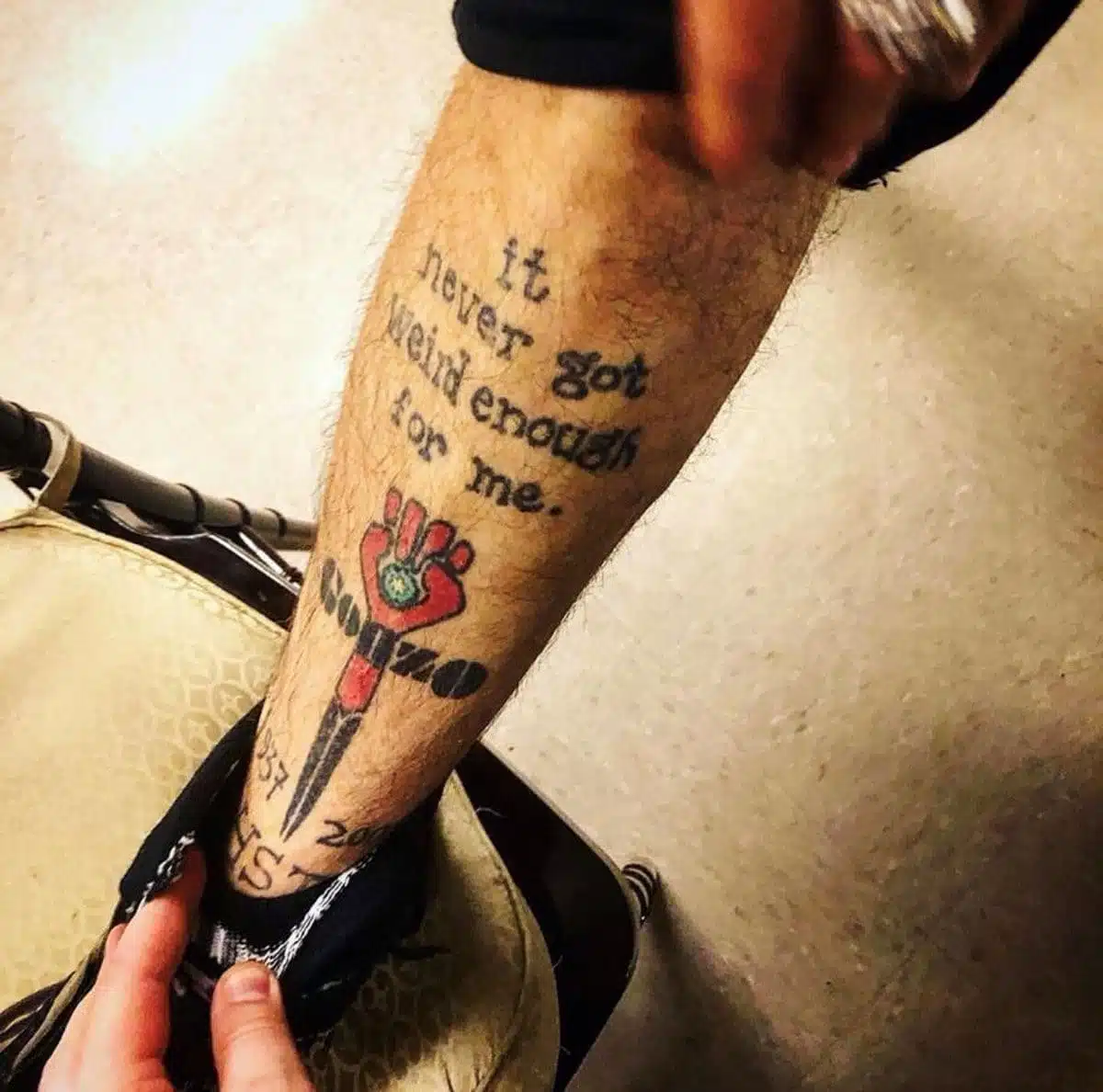 Skull with Crossbones Tattoo
Johnny Depp got this tattoo inspired by the film series "Pirates of the Caribbean" in which Johnny Depp portrayed "Captain Jack Sparrow" a fictitious character and protagonist of the film series.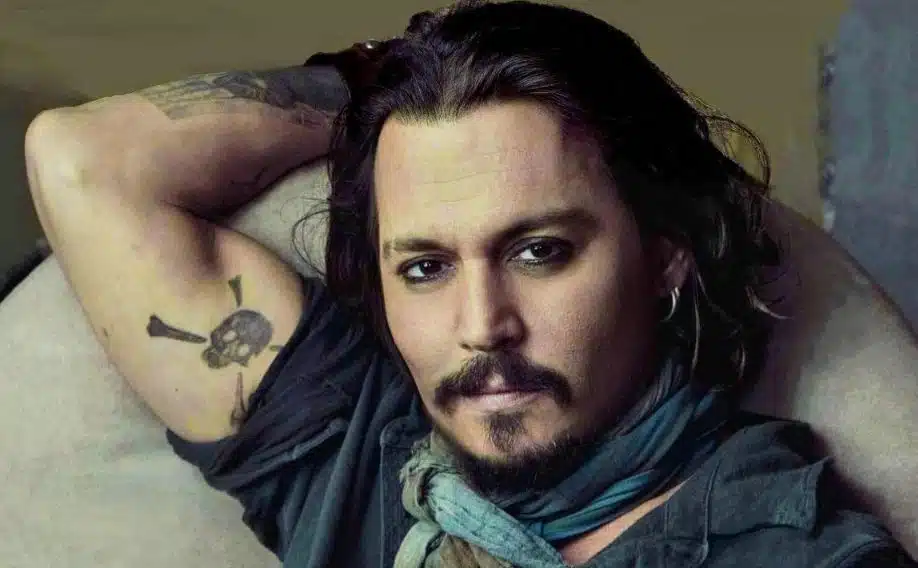 "SALVE OGUM" Tattoo
Johnny Depp has a "Ogum" tattoo and the words "SALVE OGUM" on his left forearm. "Ogum" is an African-American god. It is shown as a comic-strip figure wearing a crown. Johnny may have created a layout of the sign himself. "Salve" is a Portuguese/Latin phrase that means "hail" or "save."
Rook Tattoo
In late July or August of 2011, Johnny inked a new tattoo on his left wirst, just below the "SALVE OGUM" tattoo. The image is of a rook from the card game "Rook," which is popular in Eastern Kentucky.
"NO REASON" Tattoo
Johnny Depp has a "NO REASON" tattoo on his right inner wrist, one of two he has with Marilyn Manson. "It's kind of a secret. People say to us, 'Why did you get that?' And we say, 'No reason,'" Manson explained to Rolling Stone.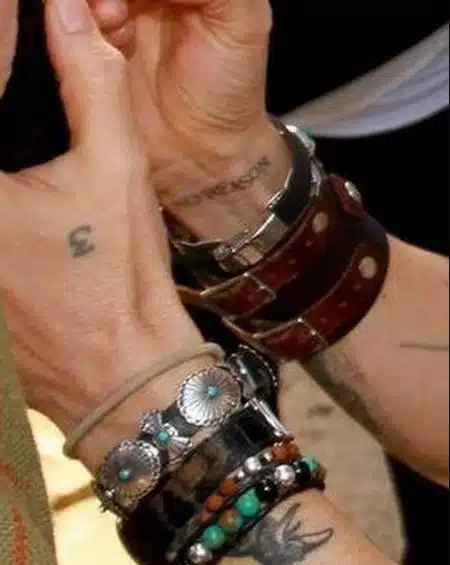 Ching Tattoos
Johnny Depp's black bands on his outer right arm are thought to originate from the I Ching, a Chinese divination scripture. According to legend, the design signifies "Wind Over Heaven," or that pushing one's way through life only leads to sorrow and destruction, and that one must remove impediments and conquer them with elegance and delicate acts.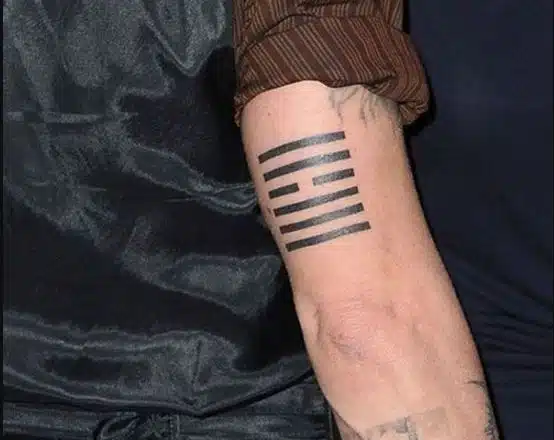 Comanche Shield Tattoo
Johnny Depp inked this Comanche Shield tattoo on his right shin to commemorate his adoption into the Comanche Indian tribe.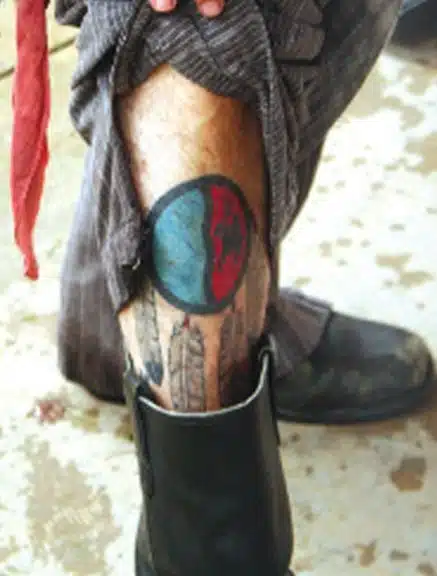 Giddy Thing Tattoo
Johnny Depp first revealed in a television interview that his tattoo is a faceless figure sketched by his son Jack. The letters contain the phrase "Man is a giddy creature," which is a lyric from Mumford and Sons' song "Sigh No More" as well as a line from Shakespeare's Much Ado About Nothing.
---
Johnny Depp Tattoos Frequently Asked Questions
How many tattoos does Johnny Depp have?
Johnny Depp has a total of 37 tattoos, of which some have not been photographed yet.
Does Johnny Depp still have Winona tattoo?
Johnny Depp confessed in court that he had a "Winona Forever" tattoo changed to "Wino Forever", because of his ex-wife, Amber Heard.
Are Jack Sparrow's tattoos real?
The "Jack" tattoo on Johnny Depp's arm was initially a fictitious tattoo meant to be part of Jack Sparrow's costume. However, Johnny Depp was so enamored with the tattoo that he eventually had it done for real.