A lot of celebrities have tattoos that represent different milestones and experiences in their lives. Justin Bieber, a famous music artist, and songwriter is one of the many celebrities with significant tattoos on almost every part of his body. Justin Bieber has about 60 different tattoos on his body, and each of the tattoos stands for something Justin has encountered in his lifetime.
Check out all of Justin Bieber tattoos and the story behind them.
Justin Bieber's Selena Gomez Tattoo
Love is written all over this tattoo work. Justin Bieber had this tattoo while still in a relationship with Selena Gomez. The tattoo has a face of Selena with angel wings to it. Despite the initial significance of this tattoo to Justin Bieber, the tattoo now mean no solid significance to him anymore.
Justin Bieber Face Tattoos
Justin Bieber only has two face tattoos and they are both very small and minimal. Check below those tattoos.
Face Cross Tattoo
"Yes, I did a tattoo. A small cross near the corner of Justin's eye," tattoo artist JonBoy admitted to E! News, and added "It was a representation of his faith in Jesus and his journey with finding purpose in God."
"Grace" Tattoo
Matching with his wife back in 2018, Justin Bieber has inked the word "grace" above his eyebrow. This is the second tattoo Justin's tattoos on the face.
Justin Bieber Neck Tattoos
Justin Bieber has several tattoos on the neck and each tattoo holds its own meaning. Check below those tattoos and what they represent to him.
Patience Tattoo
Justin Bieber's has the word "Patience" tattooed on on the right side of his neck, just below his ear. It is written vertically down his neck in black Gothic handwriting.
Angel Wings Tattoo
Justin has a pair of angel wings tattooed on the back of his neck, and it was one of the most painful ink designs he'd ever gotten. Angel wings indicate motivation to fly high and fast.
Peach Tattoo
In tribute to his "Justice" album, Justin tattooed a peach on the left side of his neck.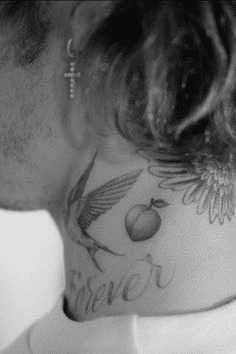 Forever Tattoo
This word "Forever" is inked in on the left side of Justin's neck. The neck tattoo signifies the song he released in 2020, titled "forever".
Rose Tattoo
Rose tattoos represent sentiments, emotions, love, passion, caring, mature love, and protection from an envious lover. Bieber has debuted the rose tattoo on the right side of his neck on Instagram.
Sparrow Bird Tattoo
Tattooed at the left side of the neck , Justin has inked a flying bird. Justin Bieber told Vogue the meaning of the tattoo: "It's a reminder to use the gifts God has given me and give it all I have—to fly above all of the bullshit."
Treble clef Tattoo
Justin Bieber inked a treble clef tattoo behind his left ear in black. Treble clef tattoos are typically tattooed by music lovers to represent their relationship and love of music.
Laurel Wreath Tattoo
Bieber inked a Laurel wreath tattoo around the neck that may represent triumph, success, wealth, and happines.
Justin Bieber Chest Tattoos
Justin Bieber has inked several tattoos on the chest and each tattoo holds its own meaning.
Lion Tattoo
Inked on the left side of his chest is the image of a Lion. The Lion is a fierce animal, and it won't be difficult to figure out the significance this animal represents. The Lion tattoo symbolizes power, determination, mental strength, and perseverance.
Bear Tattoo
Located on the right side of his chest is the tattoo of a bear. The bear tattoo compliments the lion tattoo on the other side of Justin's chest. The bear tattoo represents protection, bravery, strength, dominance, and anger.
Crown Tattoo
Justin Bieber got a tattoo that raised questions in 2012. It was a crown tattoo inked on the left side of his chest. It is a general belief that the crown symbolizes royalty. However, the crown doesn't just represent royalty; it also has a strong significance for other values. For Justin, the crown tattoo represented confidence, sophistication, and dignity.
Chest Cross Tattoo
There's a large standout tattoo in-between Justin Bieber's chest. The Cross tattoo sits between the lion and bear tattoos on both chests, and the size of the tattoo shows how important his Christian life is to him. Generally, the cross tattoo is a sacred symbol that surrounds the divinity of Christianity.
Justin Bieber Waist Tattoos
Seagull Tattoo
Justin Bieber started his tattoo journey as a minimalist. On his sixteenth birthday in March 2010, Justin Bieber walked into a tattoo shop in Toronto with a confidence of a young lad to get a tattoo he was finally ready for. He told the tattoo artist the kind of design he wanted, which was a small bird "seagull." He wanted the tattoo on his waist due to reasons best known to him. When the design was complete, Justin Bieber was asked about the significance of the tattoo. Apparently, the seagull tattoo has been part of Justin's family, and it was said to be inspired by the fable "Jonathan Livingston Seagull." Generally, the seagull tattoo could signify peace of mind and progress.
Forgive Tattoo
Right on the right side of Justin Bieber waist, is a small tattoo writing that reads "Forgive." The significance of this tattoo is to show one of the values of his Christian life.
Justin Bieber Ribcage Tattoo
When it comes to his tattoos, Justin Bieber never fails to be intentional about choosing a design. On the left side of his rib cage, Justin Bieber has a tattoo that reads "Yeshua." This is a Hebrew word that means Jesus.
The ideology behind choosing this design is straightforward, as Justin had a connection with religion back in his early days. Apart from the religious significance the tattoo holds, another significance is that Justin Bieber and his father got this same tattoo at the same time during Justin's world tour in Israel. Generally, this ribcage tattoo symbolizes the sacred connection between you and your religious belief.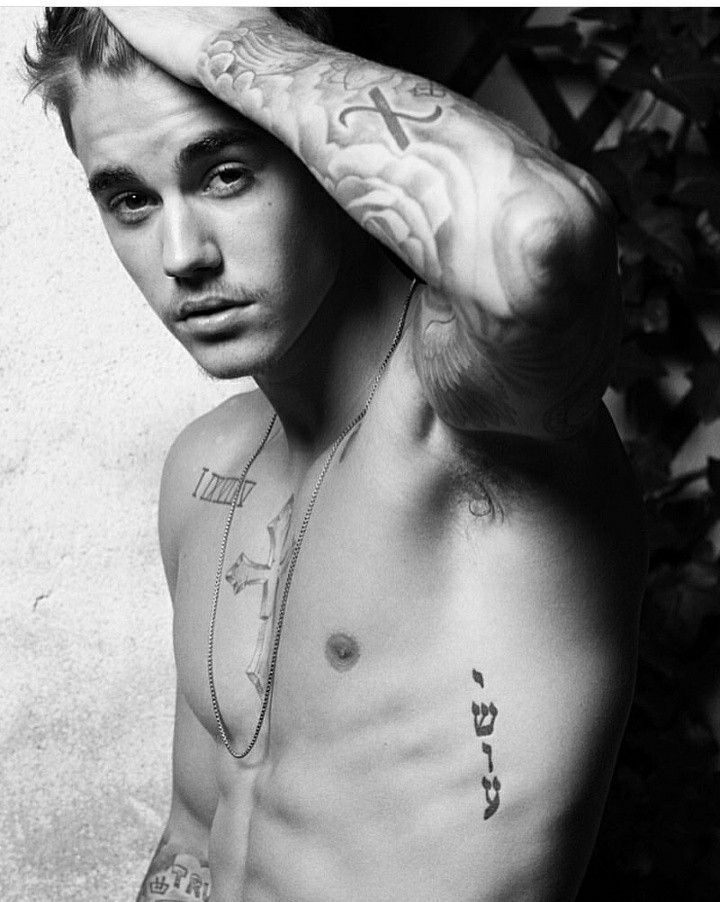 Jesus Leg Tattoo
Justin Bieber got a "Jesus" inked on his left calf. This religious tattoo features a depiction of Jesus with a crown of thorns and a halo over his head. Such tattoos express one's religious beliefs and optimism.
Folded Hands Tattoo
Justin Bieber has a tattoo of a pair of prayer hands on his left calf, indicating his spiritual side. Justin Bieber's praying hands tattoo is etched on his leg in black and white. This tattoo is directly beneath Bieber's previous tattoo of Jesus. Praying hands represent one's confidence in the Almighty. It also demonstrates the ability to communicate with God because you are appreciative.
Believe Tattoo
When we said this man had tattoos on almost every part of his body, it was definitely no joke. Justin Bieber's body can be called a museum of tattoos. The tattoo on his left lower arm reads "Believe," and it is just another art to add to his collection of significant tattoos. Justin Bieber got inspired to get this tattoo after he dropped his album "Believe." He believed that the birth of that album was a significant milestone in his life, and he had to make it memorable. In a general context, the word "Believe" stands for positivity and hope.
Owl Tattoo
On Justin Bieber's forearm sits a tattoo masterpiece of an owl. The beauty of this tattoo would leave you in astonishment. Apart from the fact that the owl is a beautiful bird, the attention to detail on the owl tattoo was on another level. The significance of this tattoo is based on your belief. The Native American believes the owl represents knowledge and intelligence.
Roman Numeral Tattoo
This is probably one of the dearest tattoos to Justin Bieber. The Roman numeral tattoo is located near Justin's right collarbone. It reads "I IX VII V" (1975). Justin Bieber wanted to express the love he has for his mother, Patricia Mallette. This made him decide to get her birth year tattooed on his chest. This was how Justin's Roman numeral tattoo came into existence.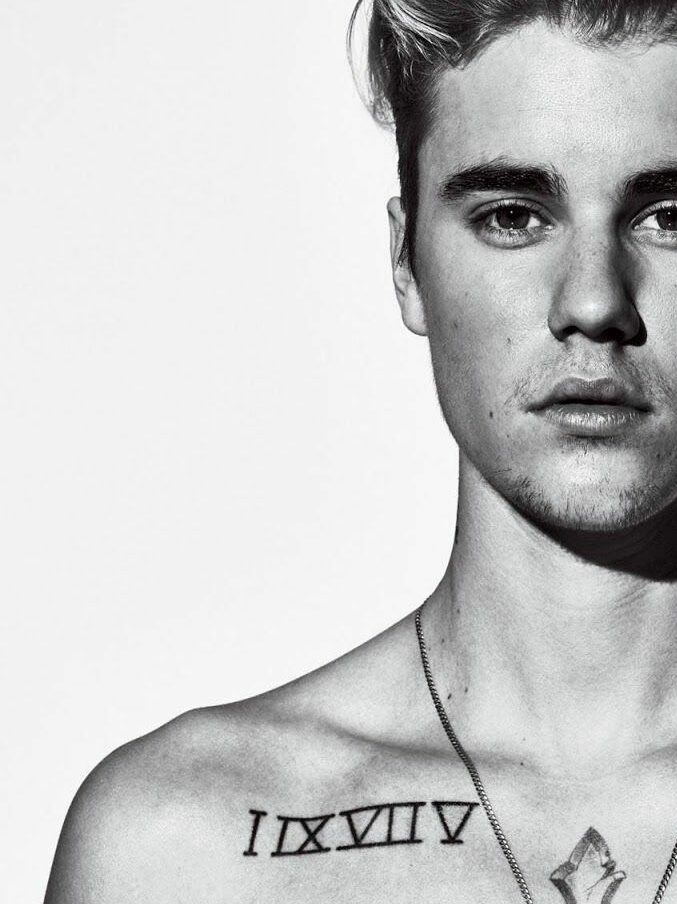 Christ Symbol For Greek Tattoo
When it came to religion, Justin Bieber was a tattoo freak in representing his belief on different parts of his body. On his left forearm, there is an "X" symbol. This symbol is said to be a Greek symbol that represents Christ. Justin Bieber doesn't joke around with his religious side, and his tattoos are valid evidence.
Tiger Tattoo
There is an unusual-looking tattoo of a tiger inked on Justin Bieber's left bicep. The face of the tiger on his skin shows aggression and dominance. The tiger tattoo carries a powerful representation, and a single look at it can change the aura of your presence. Generally, the tiger tattoo represents confidence, strength, focus, and caution.
Eyeball Tattoo
Apart from tattoos that show Justin Bieber's affinity to Christianity, another significant tattoo that finds itself on Justin's body over and over again is that of his mother. Justin Bieber has a beautiful eye tattoo on his arm which represents the eyeball of his mother, Patricia Mallette. Justin Bieber got this tattoo to appreciate his mother's love, and also to give her the honor she deserves. Generally, the eye tattoo represents guidance, and sometimes, wisdom.
Arm Rose Tattoo
There is a balance when it comes to the tattoo on Justin Bieber's body. One of the calm tattoos on Justin's body is the rose tattoo. Justin Bieber has a rose tattoo inked on his left arm, above the owl tattoo. The rose tattoo symbolizes passion, sacredness, togetherness, confidence, and power.
Hockey Tattoo
The hockey tattoo on Justin's shoulder back is a tribute to his grandpa, with whom he had a strong relationship. He inked so it could remind him of the good old days he had with his grandfather watching the Stratford Culliton Canadian Hockey team play. This shoulder tattoo is one of the most important tattoos on Justin's body.
Koi Fish Tattoo
Justin Bieber is a versatile tattoo lover. He doesn't discriminate against cultures. He gets any tattoo he wants as long as it pleases him. An example of Justin Bieber's cultural tattoo is the koi fish tattoo inked on his left forearm, just beneath the greek "X" tattoo. In Japanese culture, the Koi fish signifies the strength to overcome all obstacles.
Knight Tattoo
This is a stand-out tattoo on Justin Bieber's left forearm. The tattoo artist must have spent a long creative time achieving this masterpiece. The tattoo pictures a knight holding onto a sword. The knight and sword tattoo can project many powerful meanings. One of its most important representations is the symbolism of force, command, and confidence. In another context, it might mean victory or a winning spirit.
Castle with Blasting Waves Tattoo
Sometimes, Justin Bieber is a minimalist when picking his tattoo designs; and sometimes, he chooses to go bold and all out. The castle with blasting waves tattoo supports the latter. Justin Bieber's forearm became crowded with tattoos when the castle and the blasting wave tattoo took shape on the last free space on his forearm. The tattoo could be said to signify power, preservation, safety, and purification. In another context, the tattoo also symbolizes royalty.
Bleeding Globe Tattoo
Just when we thought Justin Bieber was done beautifying his left forearm with tattoos, he did his thing again. A glance at the bleeding globe's tattoo would immediately spike your curiosity as it appears to be no ordinary tattoo. The fact the globe was crucified to a cross, with a crown of thorns around it, makes the tattoo look religious and inspirational at the same time. The tattoo on the low end of his left forearm, close to the wrist, shows us Justin's love for Jesus Christ, and the world he redeemed.
Bible Verse Tattoo
Justin Bieber isn't shy when it comes to showing his love for Christianity. In fact, he is super proud of being a Christian. He has inked a tattoo on the upper back that reads a verse from the bible in the book of "Psalm 119:105". Mostly, scripture tattoos are gotten for inspiration or protection.
Arm Eagle Tattoo
Justin Bieber has a tattoo of a vicious Eagle on his upper left arm. There was attention to detail in this tattoo design, and that includes the clouds around the eagle. Generally, an eagle tattoo symbolizes courage, determination, prestige, brute force, and perseverance.
"Better at 70" Tattoo
You can read "Better at 70" tattoo on the left thigh. A simple tattoo that symbolizes Justin's ideology about wasting time and making mistakes. However, he decided that he was going to try to make himself better every day till he becomes the best version of himself at age 70.
Arm Star Tattoo
Right above the eye tattoo on Justin's left arm is a tattoo of a black and white star. The star tattoo is one of the most significant tattoos due to its wide symbolic coverage. Mainly, the star tattoo represents guidance and protection.
Jester Tattoo
Just as the name implies, the Jester tattoo symbolizes exhilaration. It is mostly found on the body of people full of life. The answer to why Justin Bieber wears this tattoo on his right forearm is a no-brainer. Justin is an artist full of life, and his presence brings happiness. It is safe to say that the Jester tattoo fits him just fine.
Compass Tattoo
Justin Bieber was keen on turning every part of his arm into a museum of epic tattoo designs. The Compass tattoo on Justin's bicep is just another to add to his collection of cool designs. The black and white compass tattoo on his arm has a connection to an oceanic presence. The tattoo represents protection against literal and figurative waves.
Love Tattoo
A calligraphic tattoo sits pretty on Justin Bieber's arm, next to his jester tattoo. This tattoo reads "LOVE" and its symbolism is just as simple as its name. The Love tattoo represents passion, life, hope, relationships, and support.
Justin Bieber's Banksy's Ballon Girl Tattoo
Justin inked the Banksy's Ballon Girl on his forearm to honor the legendary urban street artist.
Diamond Tattoo
A diamond tattoo silently sits on Justin Bieber's wrist. He got the tattoo after the album project "Confident". The tattoo is a symbolic sign that marks another of his career successes.
Graffiti Star Tattoo
The graffiti star tattoo is a creative work of art inked on Justin Bieber's arm. It tells a story of the beauty and versatility of art while retaining its cool presence.
Korean Mask Tattoo
This is another tattoo to add to Justin's cultural appreciation. The Korean Mask Tattoo signifies self-expression and liberation.
Leaf Tattoo
The leaf tattoo inked on Justin's right arm holds a crucial significance to the essence of life. Naturally, the leaf tattoo represents the cycle of life, and it also stands for success and prosperity.
"LL" Tattoo
In 2015, Justin Bieber had an inspirational encounter, and he thought he had to ink this moment on his body. This was how the "LL" Tattoo came into existence. The "LL" tattoo means "Low" and "Lift". Significantly, it means when your head is low, lift it.
"G" Tattoo
Justin Bieber's immeasurable compassion made him get the "G" tattoo on his body. He got the tattoo as a tribute to a young girl born with a rare health issue called "Lissencephaly".
"Purpose" Tattoo
Justin Bieber sure likes to celebrate his musical milestones with a tattoo of the project's name. "Purpose", his fourth studio album, was no exception when it came to Justin's musical tattoo categories, right on his stomach.
"Son of God" Tattoo
Tattooed right at his upper abdomen, is a tattoo that largely reads "Son of God". This tattoo is just another to add to his collection of Christianity tattoos.
Abdomen Eagle Tattoo
You might be thinking why Justin Bieber needed two tattoos of an Eagle on his body. Well, you can never have too many tattoos of an Eagle. The Eagle tattoo can be seen showing off its wings on Justin's abdomen. This Tattoo signifies dominance, confidence, strength, and dignity.
Clock-Holding Angel Tattoo
Justin clock tattoo creatively sits on Justin's right arm. The clock-holding angel tattoo represents divinity and the connection with an angelic presence.
Music System Tattoo
The Music System Tattoo on Justin right forearm reinforces his love and passion for music.
Filigree Tattoo
This tattoo is inked around his belly button. Generally, the filigree tattoo represents a delicate vessel, or anything fanciful.
Trust Tattoo
You can read "Trust", a simple tattoo located on Justin Bieber's forearm.
Justin Bieber Tattoos Frequently Asked Questions
How many tattoos does Justin Bieber have?
Justin Bieber has at least 60 tattoos on different parts of his body. Justin Bieber isn't shy when it comes to beautifying his body with different tattoos. He currently has at least 60 tattoos on his body, and it's likely the numbers might increase as time goes on.
Does Justin Bieber have a tattoo of Selena Gomez?
Justin Bieber once had a tattoo of Selena Gomez, but after their separation, he masked the tattoo to change its concept. Justin Bieber got an angelic tattoo of Selena Gomez on the left side of his forearm during their relationship. Unfortunately, his relationship with Selena didn't turn out as he had expected; and eventually, he had to put the past behind him by masking Selena's face.
Are Justin Bieber's tattoos real?
Yes, Justin Bieber's tattoos are real. Justin Bieber sees tattoos as a sacred representation of dear words and symbols. This is why he gets a new tattoo whenever he experiences something magical. Despite the number of tattoos on his body, Justin's tattoos are authentic and symbolic.