Leg tattoos have become one of the most popular and flexible tattoo locations for men. Men have been enjoying lower body tattoos and they have been popular from celebrities to athletes. The nicest thing about a leg tattoo is that it stands out from the crowd while being undetectable under clothing. Leg tattoos for men are suitable for those who prefer a large, elaborate pattern or a modest, minimalist inking also.
Check out the top leg tattoos for men right now to help your creativity and help you find something inspirational.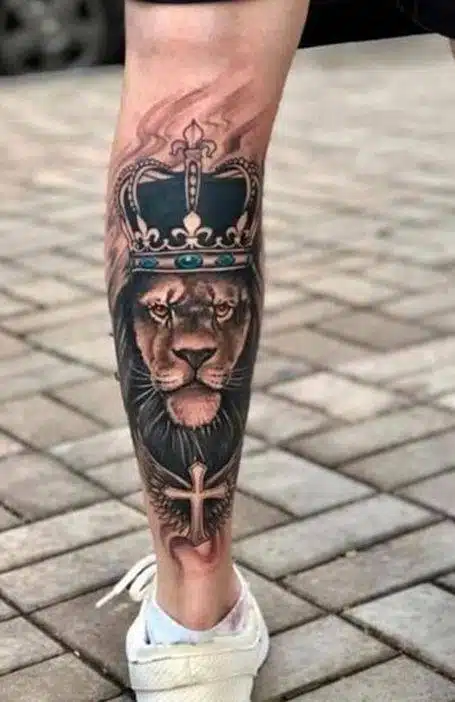 Full Leg Tattoos
A full tattoo on the leg is an excellent location because you have so much space to work with and you can show off your tattoo when walking in shorts. Although, bear in mind that this is a quite exposed place, so you have to commit to the design you are going to ink.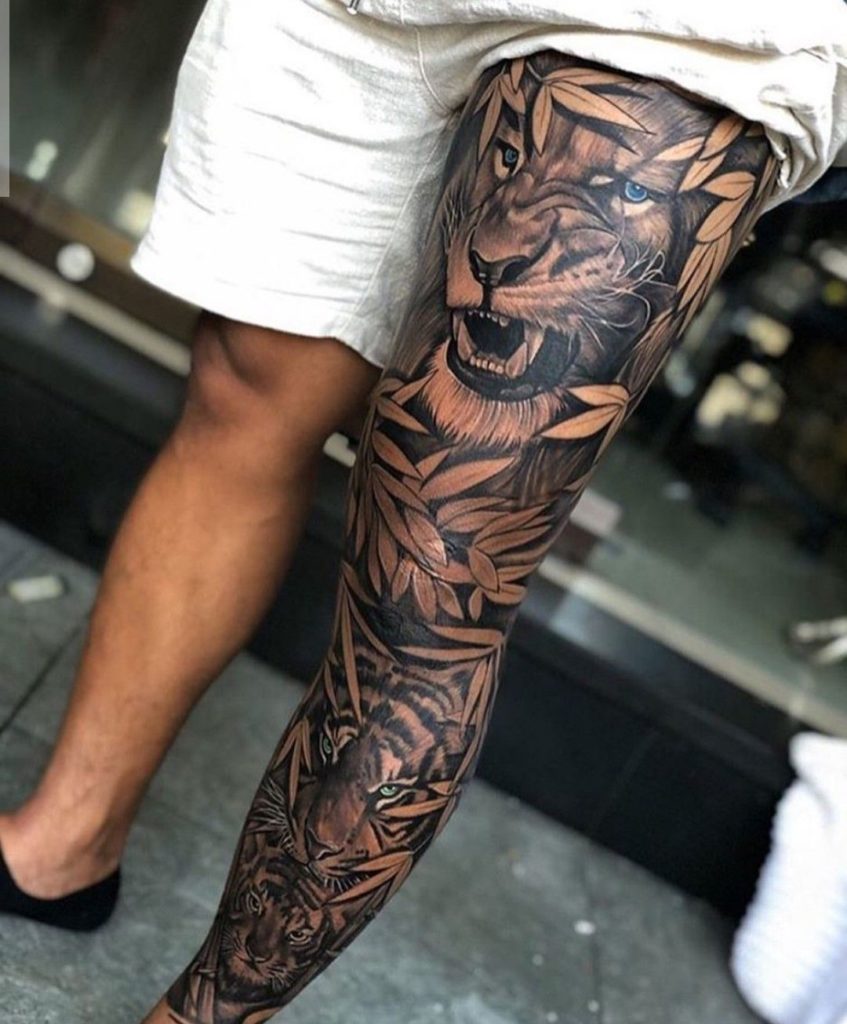 Upper Leg Tattoos
Looking for a large but hidden area at the same time? There are very few occasions when your upper leg tattoo will be visible, unless you're going to the beach in the summer. The outside of the upper leg is ideal for a little or big tattoo since it contains more fat, thicker skin, and fewer nerve endings.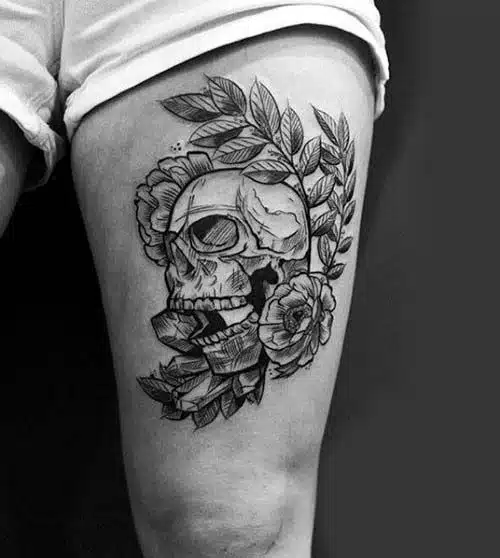 Lower Leg Tattoos
It's important that you choose carefully the placement for your body art. The lower leg can be a good place if you want to draw something vertical or if you want to cover the whole lower leg with a full design.
Side Leg Tattoos
You may opt to ink only one side of your leg if you want to leave room in other places to ink in the future. You can always complement the design later and add new pieces.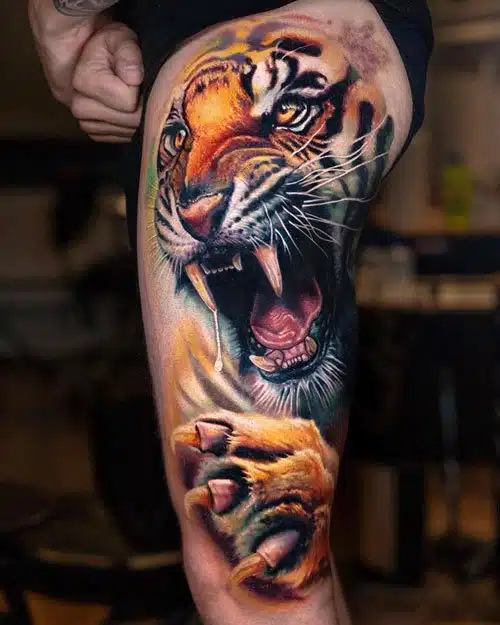 Front of Leg Tattoos
Just like the sides, the front of the leg, is a narrow place, so you might choose something narrow to ink here. The sky is the limit for creativity so you might think of something to draw there.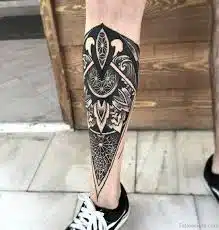 Leg Sleeve Tattoos
When we talk about sleeve tattoos you remember about the arm, but they can also be applied to the leg. A leg sleeve tattoo is a design that covers all the sides of your leg from the ankle to the knee or upper leg. Be ready to make a tattoo like this, because it's going to take time!
Leg Band Tattoos
Band tattoos can be bold and simple, and the best thing is that they don't have to have a meaning. Bands just look cool, so whether it means something or not, it can be an excellent choice.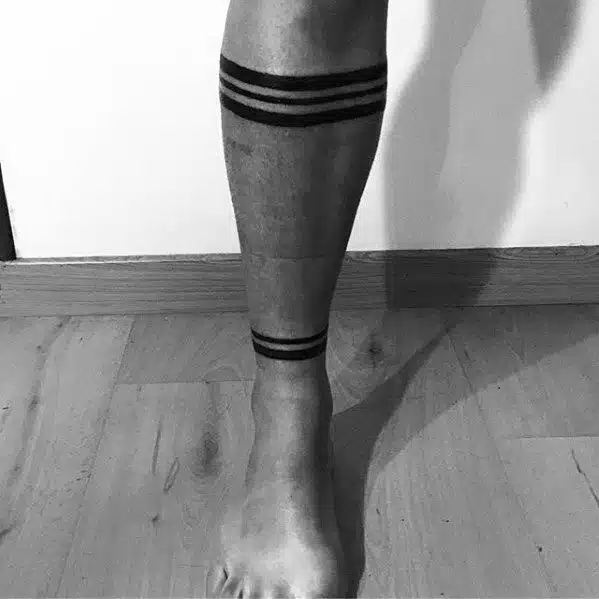 Tribal Leg Tattoos
Tribal tattoos are designed with patterns and curved lines. The curving lines can produce a pleasing effect that showcases your calf muscles for example, so you should study first where you want to put it and see how you can highlight your muscle.
Japanese Leg Tattoos
Japanese tattoos are quite unique and a cool style, becoming a very popular style among men. This style is eye-catching and fascinating because of the brilliant colors and unique shading.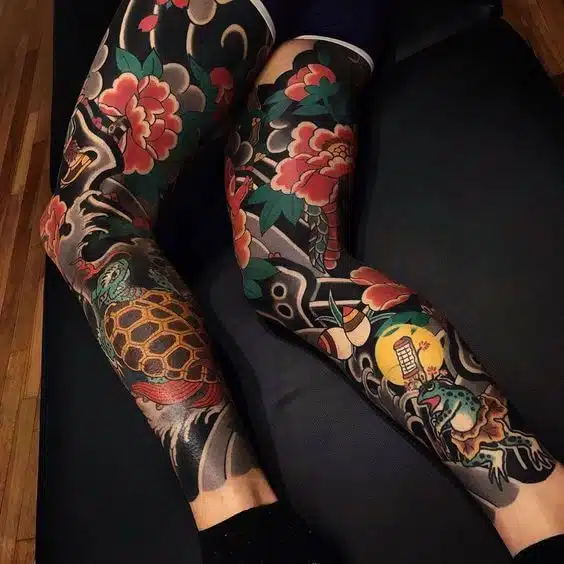 Small Leg Tattoos
If it's your first tattoo, or you want something discreet a small tattoo might be the best option. Chosing the leg for a small tattoo is a good idea because you have tons of space and a lot of muscle and fat places where don't hit the nerves, avoiding high pain areas.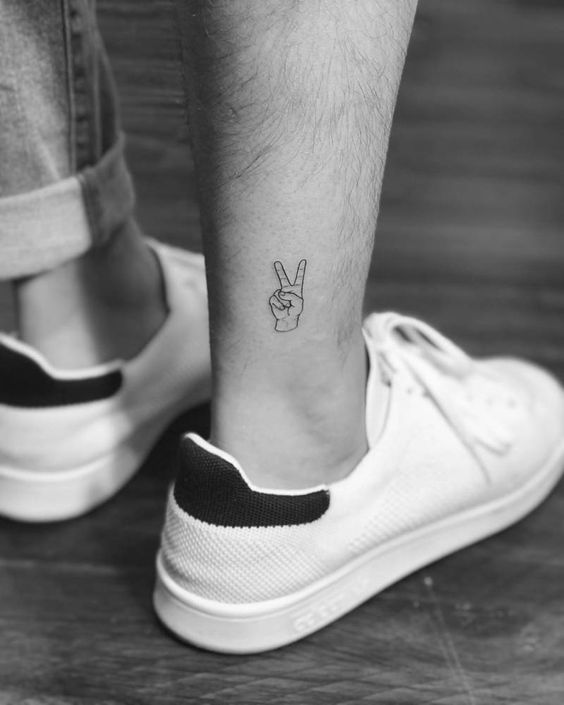 Geometric Leg Tattoos
Geometric tattoos have been getting popular in the tattoo world for the recent years. This gives a more modern tattoo look, luring individuals away from classic tattoo designs. The leg is a great place for narrow geometric tattoos.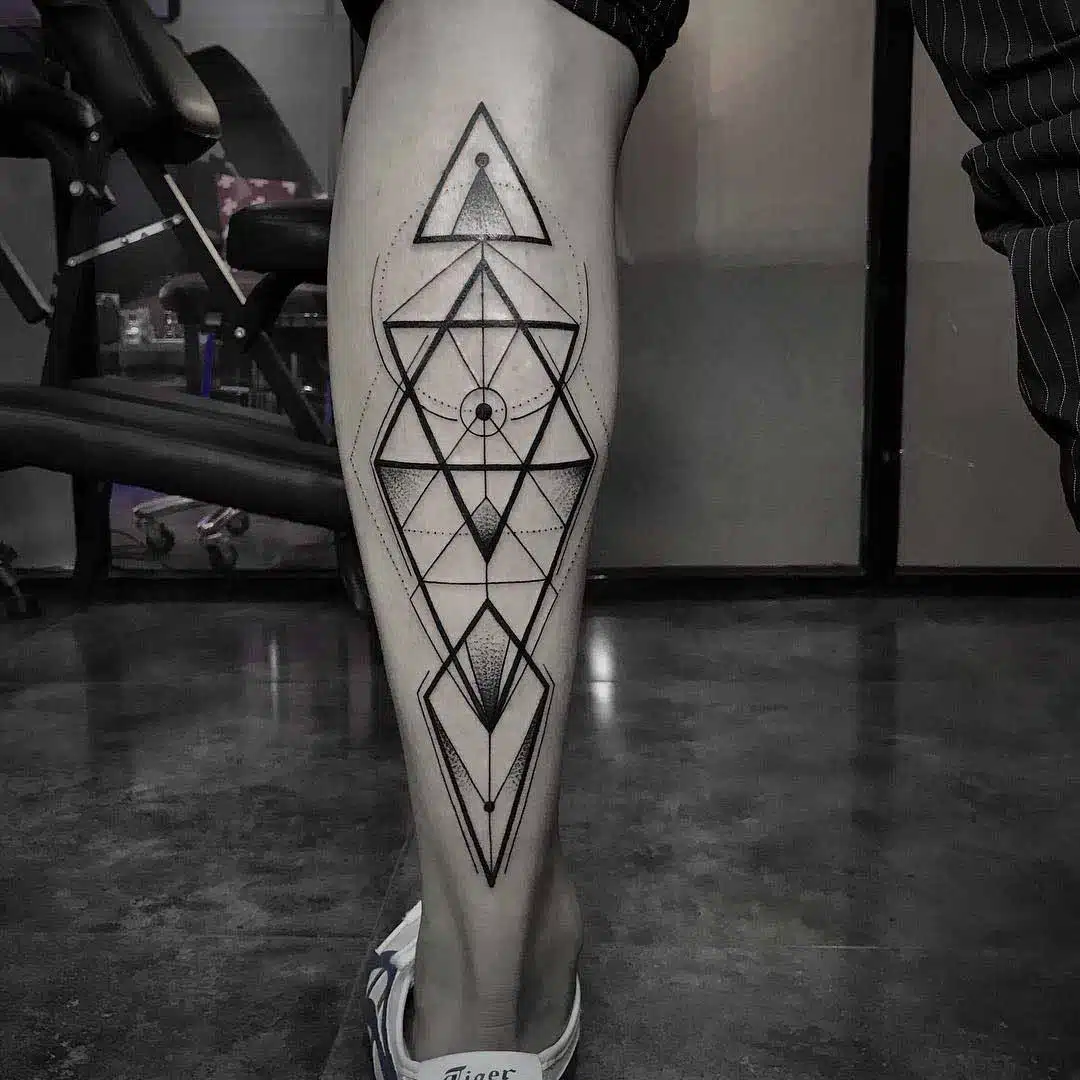 Minimalist Leg Tattoos
Minimalist tattoos have been also become quite popular in recent years. There are several minimal tattoos that pack a lot of significance, whether you're getting your first tattoo and want some uncomplicated artwork or adding to an already large collection of ink.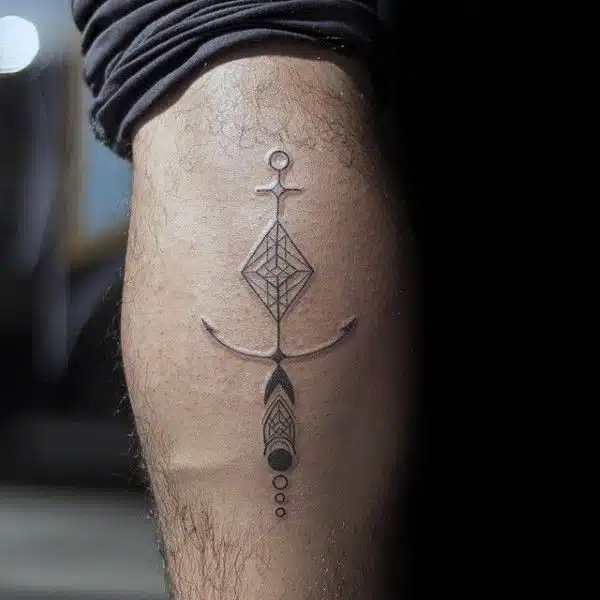 Koi Fish Leg Tattoos
A koi fish tattoo is an excellent choice and these patterns come in a variety of shapes and sizes, each with its own significance. A guy may get it tattooed to symbolise strength and change after being inspired by the legend of the dragon koi. When it comes to getting a koi fish tattoo, the color is equally as essential as the design.
Arrow Leg Tattoos
Arrow tattoos can have a lot of symbolic value and are liked by both experienced and inexperienced tattoo artists. Arrows look great on your leg because of their long, thin, and angular shape.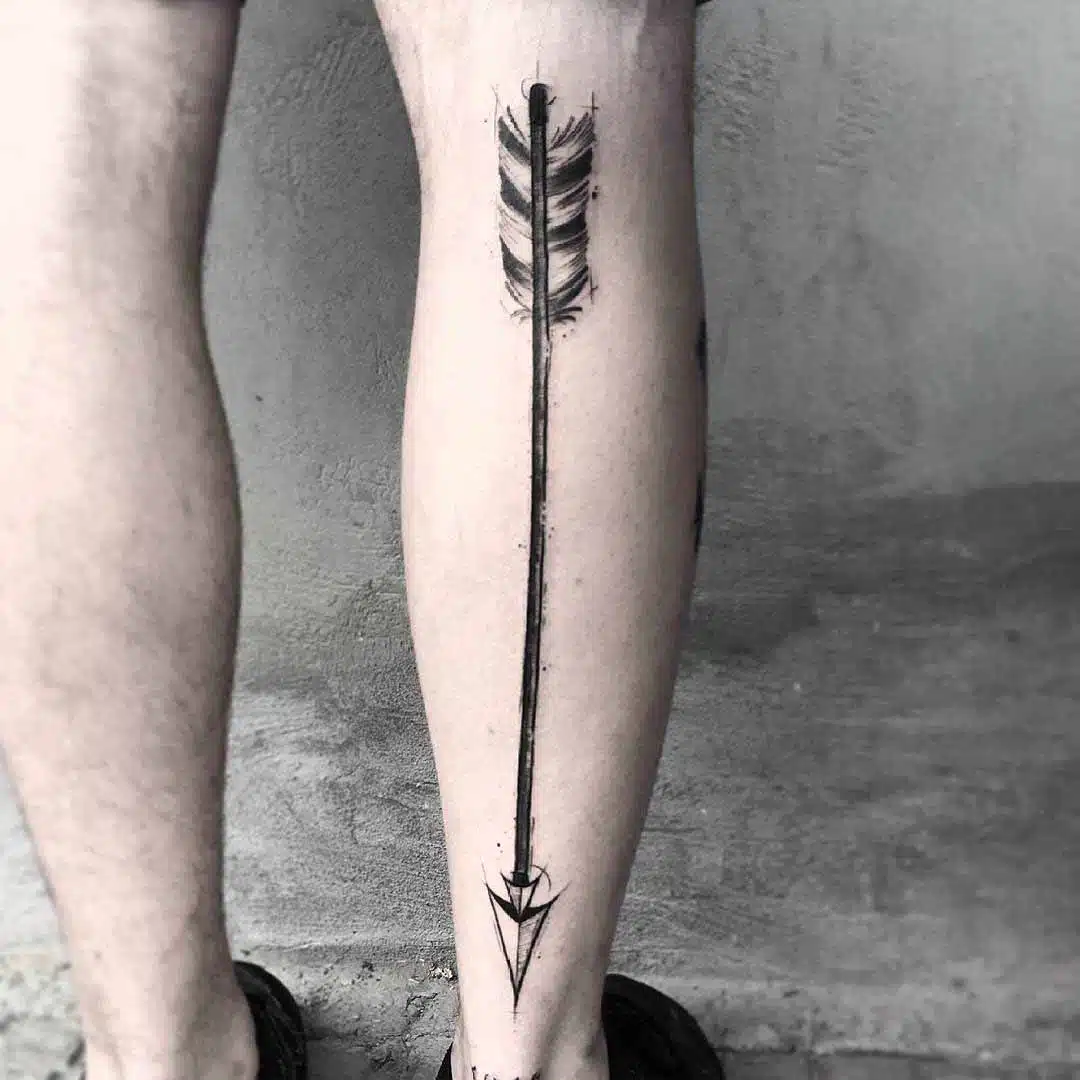 Lion Leg Tattoos
Lions tattoos have always been a popular option among men. It's not for nothing that they're known as the King of the Jungle. They're also instantly recognizable, making them suitable for a wide range of artistic styles, from photorealism to geometric lines.
Snake Leg Tattoos
Snake tattoos have been around for decades and the legs are actually on of the best places for it because of the long size and the way it can be design around the whole leg. Snake tattoos are adaptable, stylish, and you have a variety of serpents to select from, so you may pick your favorite.
Compass Leg Tattoos
Compass tattoos have long been a popular option among tattoo artists and they symbolize reason, logic and guidance because its arrow constantly points north, regardless of the weather or other external factors, and it is always straight and clear – exactly as reason and logic should be.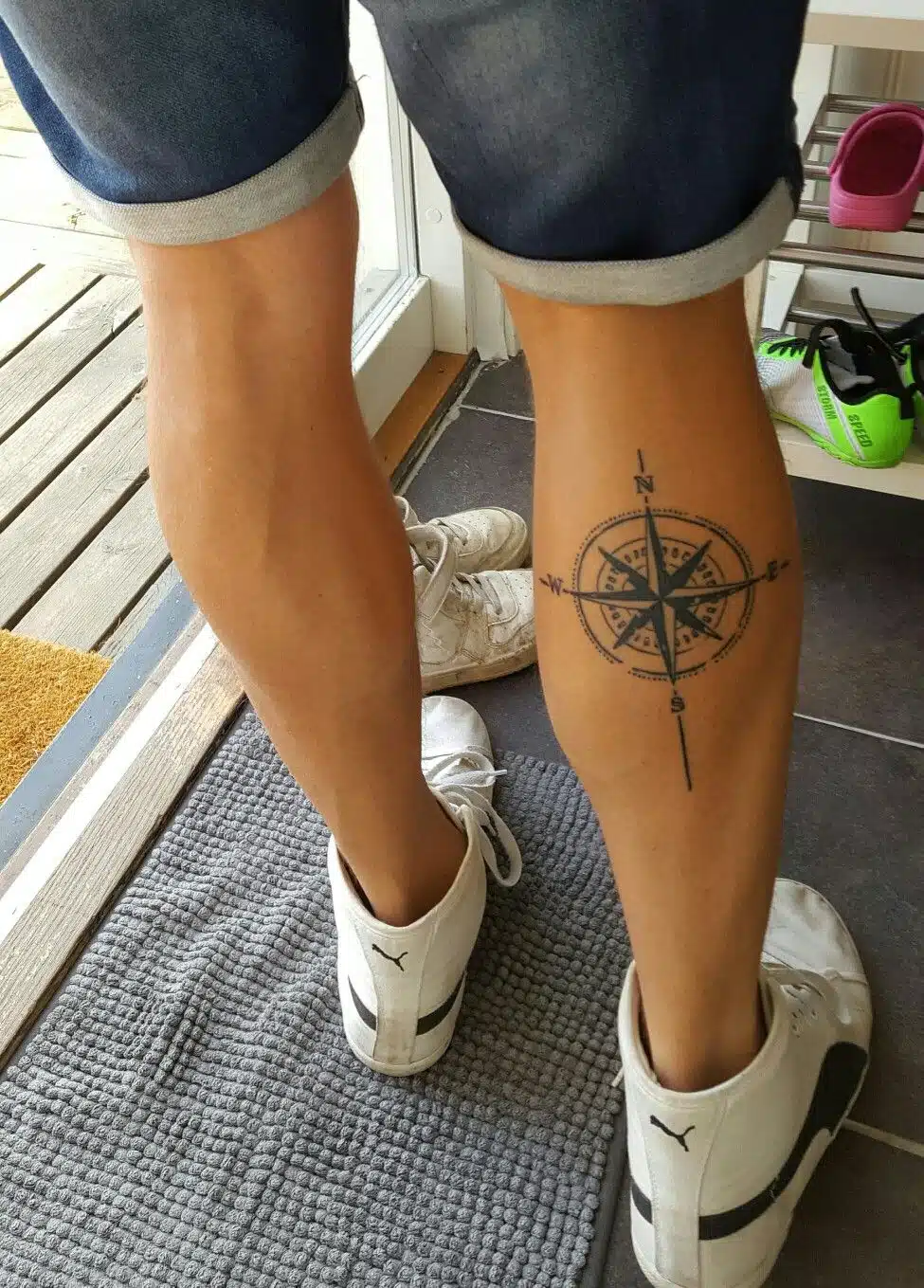 Realistic Leg Tattoos
Realistic tattoos are becoming increasingly better and better. Tattoos with realism have a lot of potential, demonstrating that ink is now for everyone.
---
Leg Tattoos for Men Frequently Asked Questions
Do Leg Tattoos Hurt?
Tattoos on the leg can be relatively minor or quite painful, depending on the area. The upper and inner leg has a number of important nerves that run through it and making it more uncomfortable and sensitive. The top of the upper leg and over the quadriceps are the least painful spots to tattoo in this area. Depending on how bony your hips are, your hips would be anywhere in the middle on the discomfort scale. Avoid the inner thigh and the rear of the leg if you have poor pain tolerance.
Do Leg Sleeve Tattoos Take Long and does it hurt?
The length of time and discomfort required will be depend on the artist. As previously said, particular places such as the inner leg, or the knee, and ankle are the worst. These tattoos require some more time for both preparation, application and healing.
Can you walk after a leg tattoo?
Walking is always a safe choice, unless you're walking around with a massive and new leg tattoo. Walking is a low-impact type of exercise that may nonetheless get your heart beating. Make sure your tattoo isn't exposed to direct sunlight.