Leg tattoos for women have become one of the most popular and flexible tattoo locations, as you can ink in the thigh, lower leg, front and back, do a sleeve leg, and many other options. Leg tattoos are very appealing for women because they can be easily covered up or shown as you wish. The space on the legs is large enough to accommodate very detailed and large tattoo designs, though, small and subtle tattoos may look good as well. Furthermore, leg tattoos are known to be low to moderate on the pain scale.
Check out the cutest leg tattoos for women right now to help your creativity and help you find something inspirational.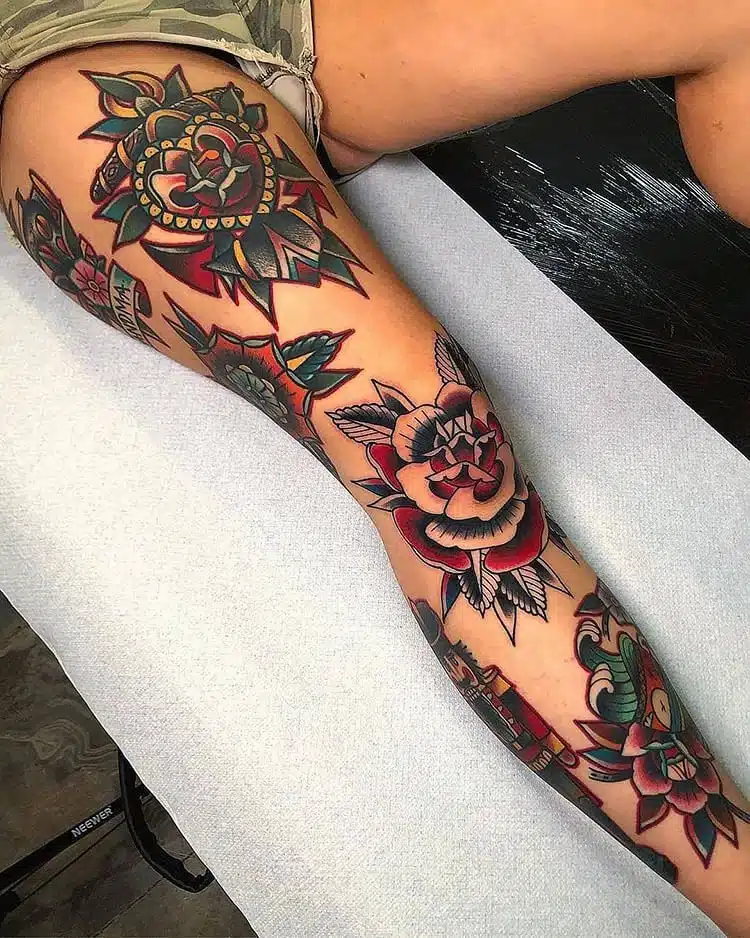 Sleeve Leg Tattoos
When we talk about sleeve tattoos you remember about the arm, but they can also be applied to the leg. A leg sleeve tattoo is a design that covers all the sides of your leg from the ankle to the knee or upper leg. Be ready to make a tattoo like this, because it's going to take time!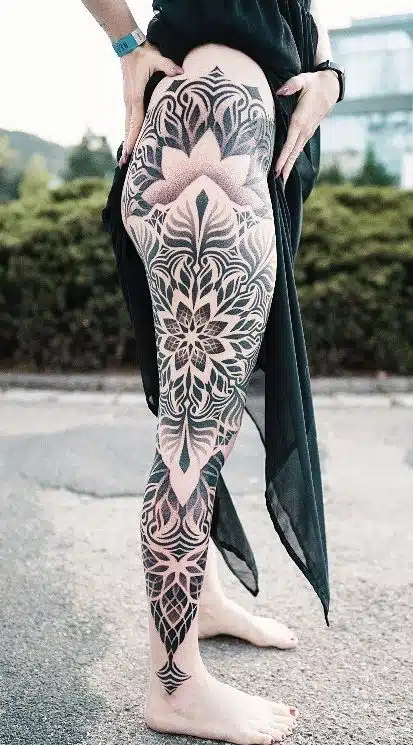 Lower Leg Tattoos
A lower leg tattoo begins below the knee and includes any ink done on your calf, shin, or upper ankle. Vertical tattoo designs are preferable to match the shape of your lower leg. They make your legs appear longer and more delicate.
Thigh Tattoos
Thigh tattoos for women are becoming increasingly popular, especially for those who appreciate the creative expression of unique tattoo designs but want to be able to cover them up in more formal circumstances. Thigh tattoos for women call for attention to the legs and lower body, and they may be subtle and seductive or bold and stunning.
Front of Leg Tattoos
The front of the leg is a narrow place but spacious at the same time, so you might choose a narrow design to ink here. The sky is the limit for creativity so you may think of something to draw there.
Back of Leg Tattoos
The back of the leg is an excellent place for your next tattoo. It is also a more subtle placement that will look wonderful when tattooed on the upper thigh or calf. The thick skin, fat, and muscle will offer some cushioning, and therefore the back of the leg is lower on the pain scale.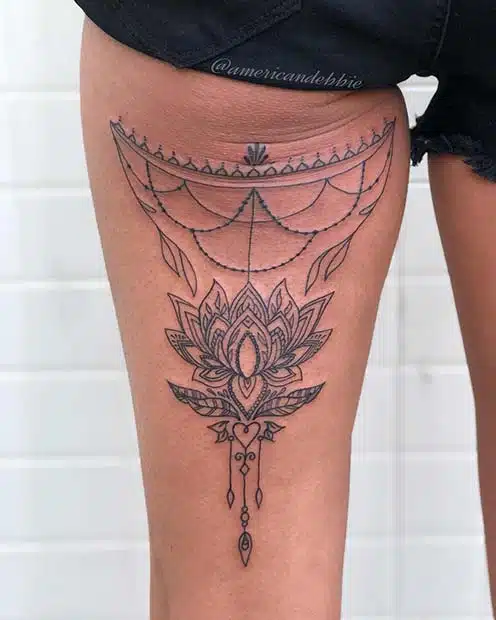 Full Leg Tattoos
A full leg tattoo may be a great option because you have so much space to work with and you can show off your tattoo when walking in shorts. Although bear in mind that this is quite an exposed place, so you have to commit to the design you are going to ink, and it's going to take really long, so be ready.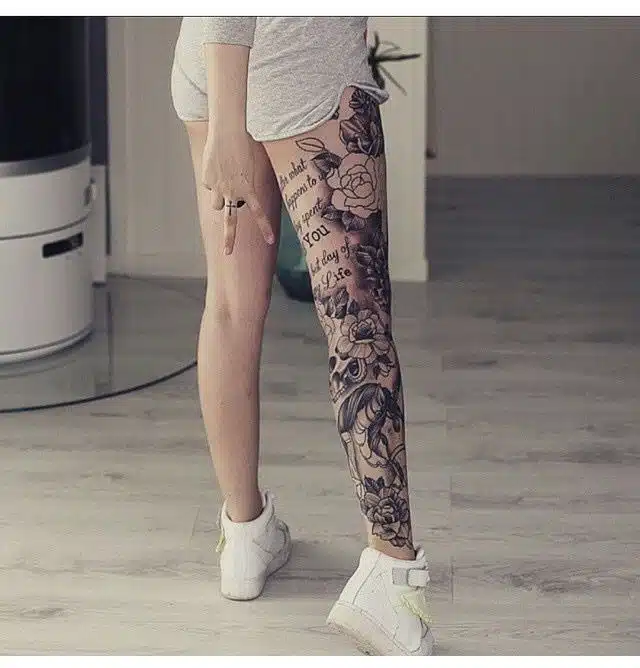 Small Leg Tattoos
Small tattoos are becoming quite more popular nowadays among women. It's also true that small tattoos for women look more attractive, distinctive and fashionable. A small leg tattoo will look great and you may opt for a rose, a flower, a moon or even a quote.
Sexy Leg Tattoos
Are you feeling more attractive? Then you should consider a sexy leg tattoo! The leg is a seductive area to get a tattoo so consider inking something that can grab attention and that works with the curves of your body. You may even consider a butt tattoo that extends to the leg or thigh.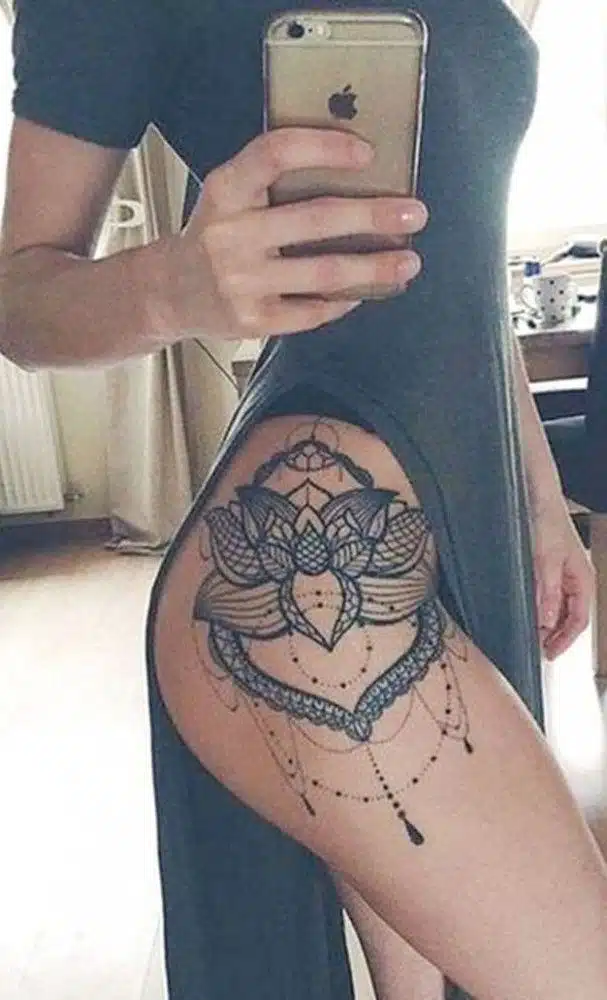 Flower Leg Tattoos
Flower tattoos are one of the most popular leg tattoo designs as you might have noticed in this article. There are several flowers to pick from, each with its own significance. In general, floral tattoos are associated with beauty, love, and life. The meaning of your selected bloom might vary somewhat, for example, the gladiolus flower is linked with family, whilst the peony is associated with good fortune and honor. Getting a floral tattoo is also a very feminine choice that looks excellent with both large and small tats and black or colorful ink.
Butterfly Leg Tattoos
Butterfly tattoos are well-known for their beauty and have become more popular because they have a timeless appeal, everyone adores these lovely critters, and they make excellent tattoos. A butterfly tattoo will make a great addition to your leg as it will match any dress you might pick.
Dragonfly Leg Tattoos
Dragonfly tattoos symbolize rebirth and changes in your life, whether it's your age change, lifestyle change, or inner awakening for example. Dragonfly tattoos not only have a deep meaning behind them but also they look so beautiful.
Snake Leg Tattoos
Snake tattoos for women have become quite a popular tattoo design because the lines of a snake's body are curved and will shape your leg perfectly to make it more appealing. Snakes are connected with feminine energy, metamorphosis, mystery, and intellect, which contribute to their allure.
Rose Leg Tattoos
Rose tattoos are trending for women because It's not just a sexy design for your body but it also offers lots of room for a larger and more complex rose tattoo design. It's great for the warmer months, a rose leg tattoo will take your bikini or beach outfit to the next level.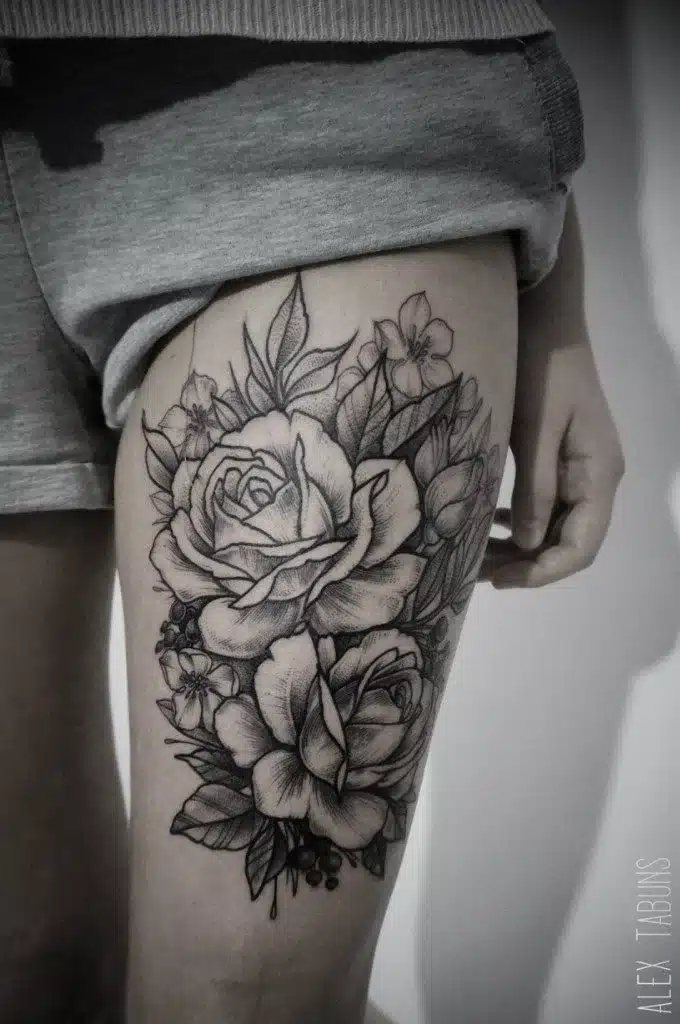 Tribal Leg Tattoos
Tribal tattoos are designed with patterns and curved lines. The curving lines can produce a pleasing effect that showcases your calf muscles for example, so you should study first where you want to put it and see how you can highlight your leg.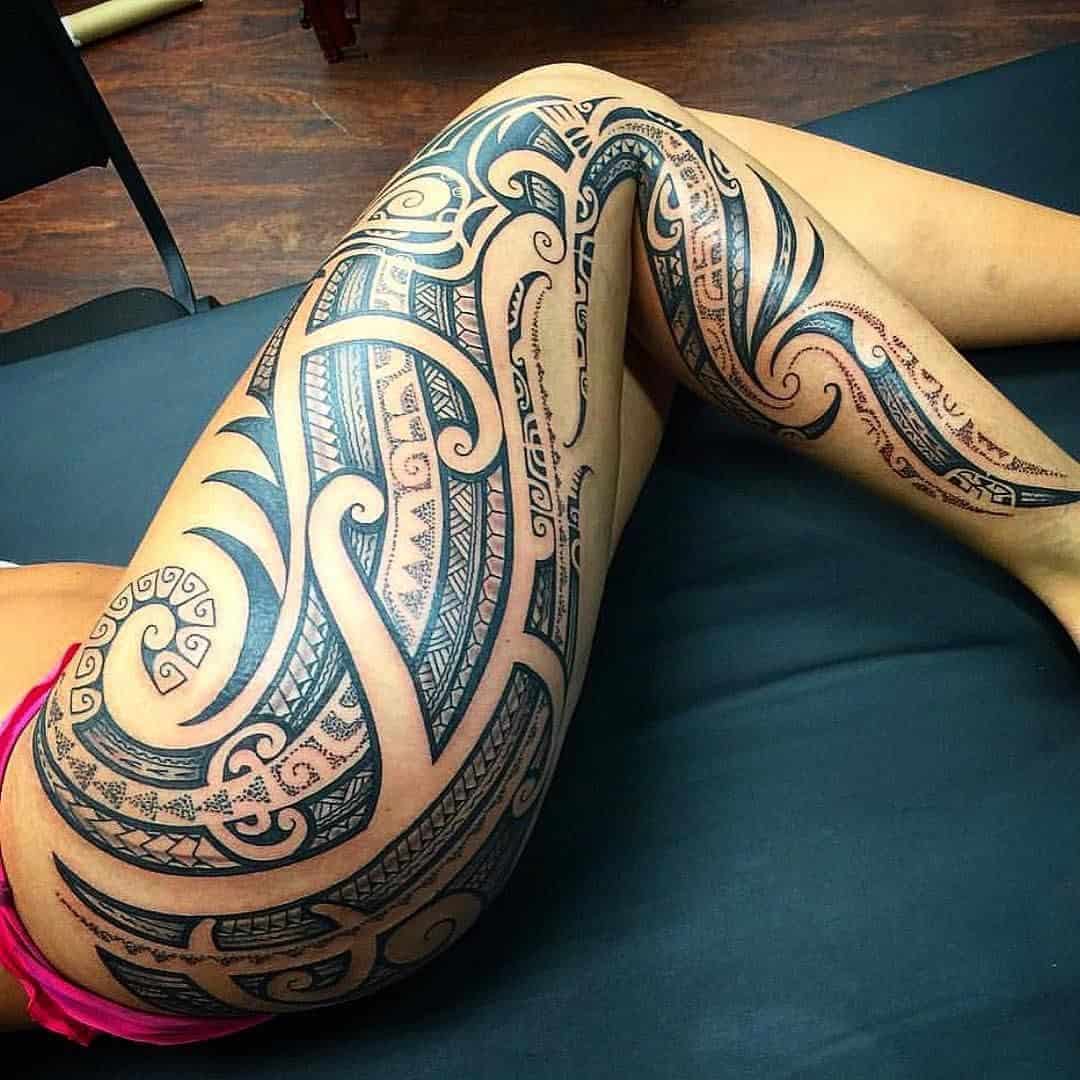 Simple Leg Tattoos
The best thing about leg tattoos is that the simplest designs will look great. Simple tattoos are for women who want a more simple approach and while keeping a meaningful tattoothat isn't overly flamboyant or brilliant. These works frequently include line work with little to no color or shading.
Ankle Tattoos
Ankle tattoos are becoming increasingly popular among women who appreciate the elegance and creative expression of tattoos. Ankle tattoos for women can be both charming and sensual. It's the perfect place for a small tattoo, though it's important to be something meaningful to you as the ankle is a visible area.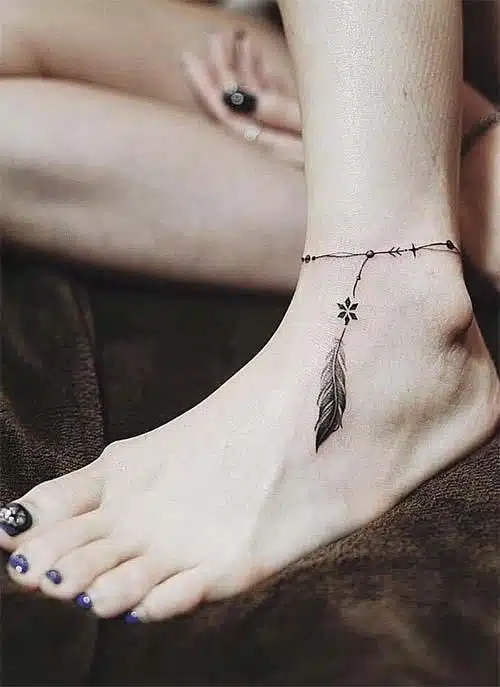 Moon Leg Tattoos
Moon tattoos are one of the unique tattoo designs in the ink art world. The moon is one of the celestial bodies, and they generally symbolize growth and transition. Ancient Mythology has studied the moon in relation to feminine divinity due to its ritualistic adoration as a female deity for thousands of years.
Chandelier Leg Tattoos
Chandelier tattoos are one of the most elaborate and detailed tattoo designs out there. A chandelier is a huge, beautiful frame that holds light bulbs or candles, as well as embellishments like crystals, pearls, and chains.
---
Leg Tattoos For Women Frequently Asked Questions
Do leg tattoos hurt?
Depending on the zone of the leg you get a tattoo, the pain will vary. The closer the needle is to the leg bones, the more it will hurt, so consider inking in the fatter areas with less nerves.
Does shaving over a leg tattoo make it fade?
You can shave your leg after the tattoo has been healed, although there is a chance of irritation. To avoid this apply regularly a tattoo aftercare cream to make the skin and tattoo well hydrated. If your leg tattoo is not healed yet, we don't recommend shaving over it.
Does a leg tattoo ink affect hair growth?
Tattoos don't normally affect the hair follicles or hair growth, contrary to what people may think. Tattoo ink pigments are known to be deposited in your skin's dermis layer, and hair follicle roots are even lower down, hence why it doesn't affect your hair growth.