Neck tattoos are just for the brave and those who are prepared to get inked on one of the most noticeable and painful places on the body. Neck tattoos for men are hard to cover up or hide and they were once linked with criminals and gangs, although as society evolved they are now connected with boldness, powerfulness, and manly personalities.
Check out the best neck tattoos for men right now to help your creativity and help you find something inspirational.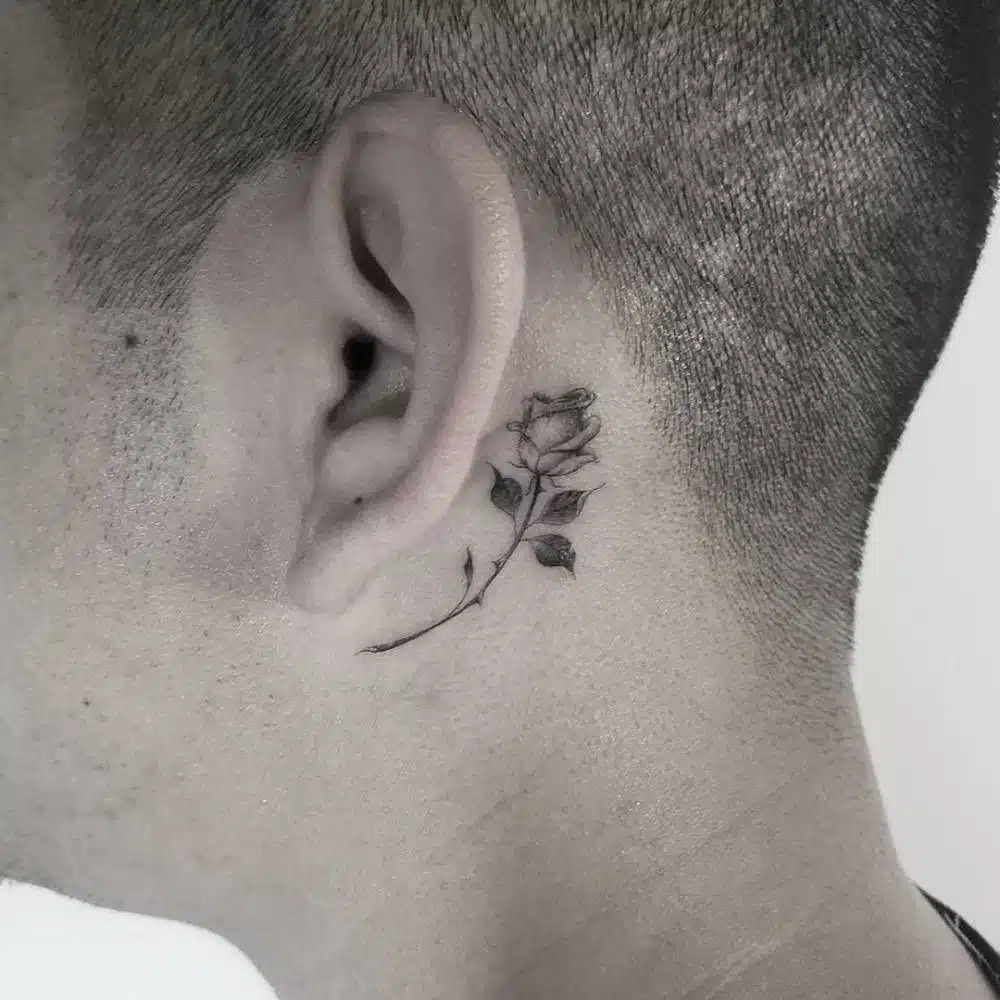 Back of Neck Tattoos
The back of the neck is one of the most popular locations on the neck for men and it can an interesting location for your first neck tattoo since it can accommodate a smaller design. Although, bear in mind that the neck is one of the most exposed areas of the body.
Front of Neck Tattoos
Front of neck tattoos can be quite painful due to the thin skin and many nerve endings, although it's an excellent place for an eye-catching ink of something meaningful and significant for you. These tattoos can also be an extension of the chest tattoo.
Side of Neck Tattoos
Side neck tattoos are one of the most popular places within the neck as they can bring a variety of different concepts. These tattoos might be black and white or colored, but they frequently feature vibrant situations with distinctive styling for a stylish appeal.
Full Neck Tattoos
A full neck tattoo is one of the most remarkable and bold options available, which won't go unnoticed. If you are in the state of mind of "go bold or go home" this is a good option for you.
Wings Neck Tattoos
Wings tattoos generally have a religious connotation. They signify guardian angels to many men, who safeguard and guide them – especially loved ones who have passed away. This can be a really good fit for the back of your neck when using two wings. You might consider the side of the neck if you only want one wing.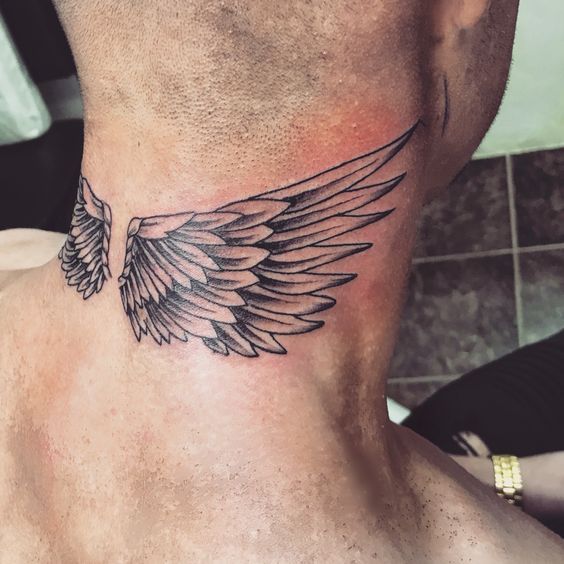 Small Neck Tattoos
You can't go wrong with a small tattoo. Especially for the neck, small tattoos are the best option if it's the first tattoo or you are unsure about the pain. You may opt for a little symbol or even some initials, a phrase, or roman numerals, just to name a few options.
Cross Neck Tattoos
Cross tattoos are one of the most popular choices out there and they have a strong religious meaning as it reminds everyone that your religion is the most important thing in your life.
Tribal Neck Tattoos
Tribal neck tattoos are an excellent choice for men with relevant ancestry to pay homage to their roots. Try a tribal tattoo that hugs your hairline for a unique touch.
Rose Neck Tattoos
Rose tattoos have been popular for ages and they will remain like so as they symbolize beauty and love, among other things. When coupled with other symbols, it creates a powerful depiction of feelings and importance. You can choose a bright color, such as red or pink, as the final touch to bring the exquisite painting to life.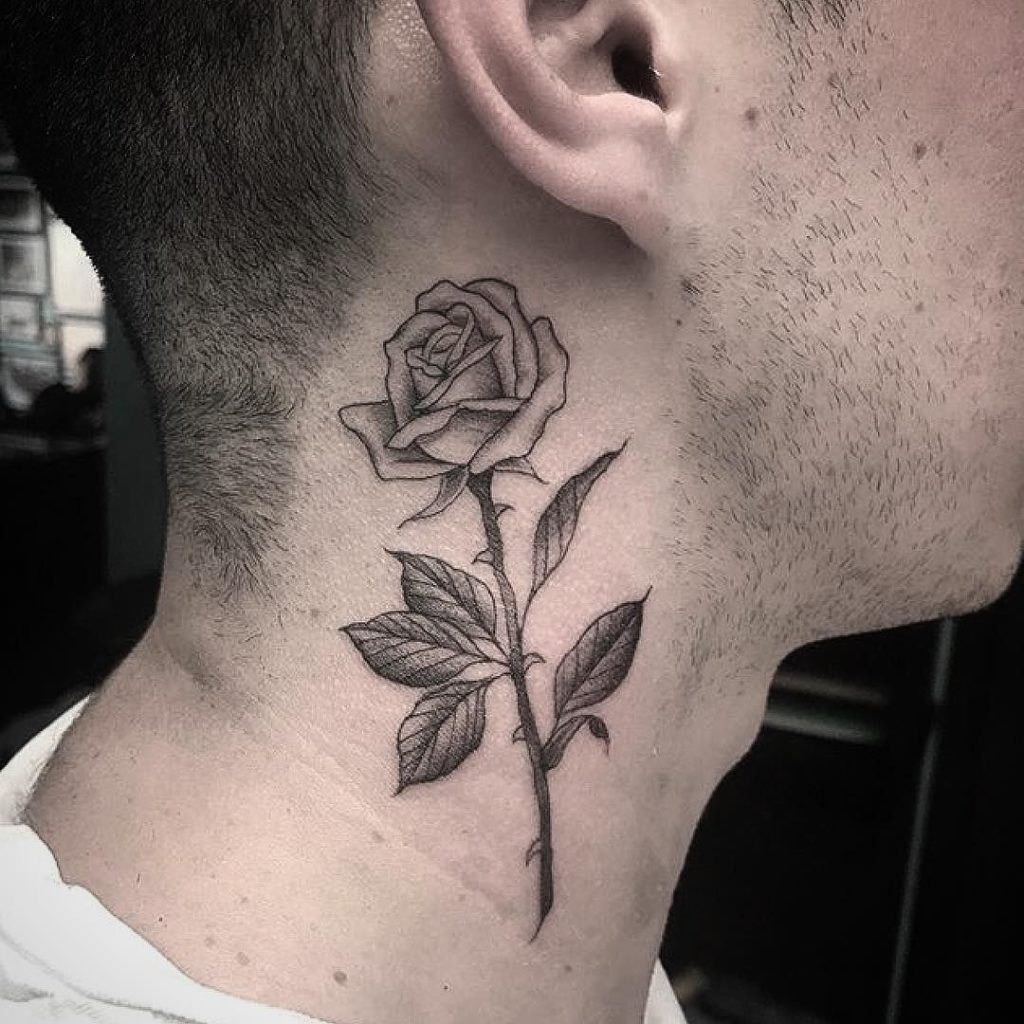 Skull Neck Tattoos
Skull neck tattoos are popular and they're unique, edgy, and tough-looking as they signify anything from death and dying to beauty and nature. This kind of ink is also considered manly, especially when it includes shading and complimentary figures such as snakes.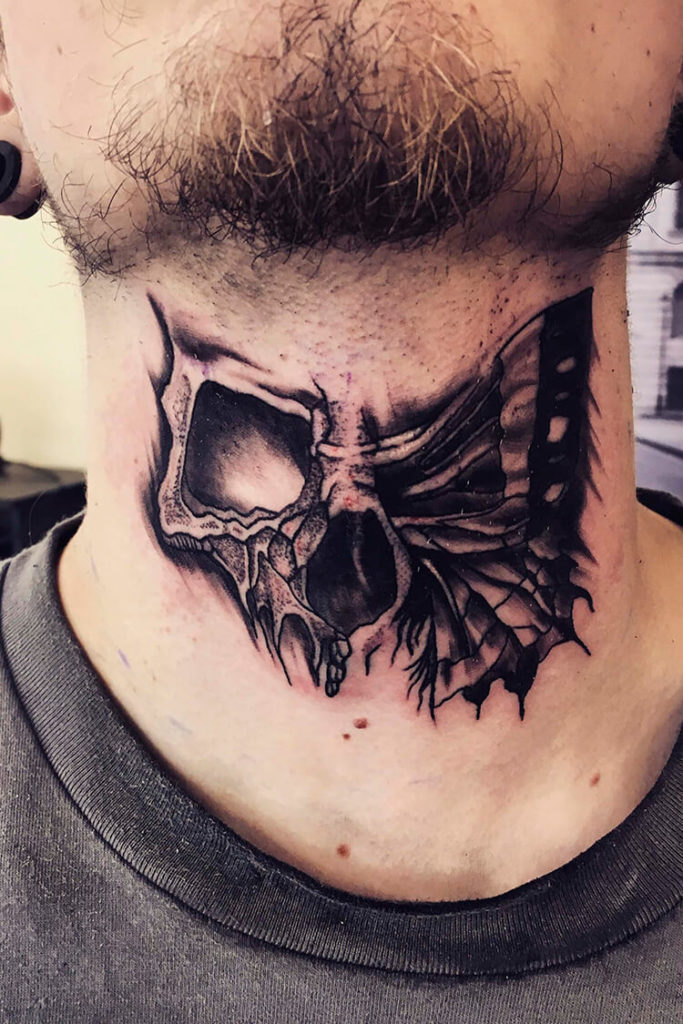 Minimal Neck Tattoos
Minimalist tattoos have become quite popular in recent years. There are several minimal tattoos that pack a lot of significance into a small space, whether you're getting your first tattoo and want some uncomplicated artwork or adding to an already large collection of ink.
Geometric Neck Tattoos
Geometric tattoos have been growing in popularity. Geometric tattoos are subtle yet unquestionably stylish, ranging from basic lines to more intricate geometric tattoo designs. Choose a pattern for your neck tattoo that follows the natural lines of your neck. This will give your tattoo a 'wrapped' look, allowing it to blend in with your skin.
Quote Neck Tattoos
Quote tattoos can have the meaning you want, as the message will be in the quote itself. You can write a whole phrase or just a word. Song lyrics, movie lines, or wise remarks may all be used to create a powerful and meaningful tattoo. Cursive lettering or calligraphy, may give your artwork a distinctive touch and make it more creative.
---
Neck Tattoos For Men Frequently Asked Questions
Do Neck Tattoos Hurt?
The neck is very sensitive location because it's full of nerves, the thin and sensible skin and they tend to be very painful. The intensity of the pain will depend a lot on where exactly you're getting inked. The front of the neck tends to be much more painful than the back and sides of the neck.
Are Neck Tattoos Dangerous?
Getting a neck tattoo it's not more harmful than getting one on any other part of your body. Apart from the overall discomfort and pain caused by the needle and the artist's pressure, the most serious danger is an allergic response. The only other consideration is that a neck tattoo is more exposed to the sun, and the ink might create sensitivity when exposed to UV rays.
Why do men tattoo their neck?
There isn't a particular reason for men to tattoo their neck, as it's just like any other area of the body. Although given that it is a quite exposed area of the body some men use it to get attention from other people or to show their personality to others.