Rose tattoos have been a popular choice for many years among men and women. Rose tattoos may seem more feminine but they can also look delicate and cute to men. Rose tattoos can be found in a variety of styles, from traditional roses to contemporary floral designs. It's an iconic design because of its brightness, boldness, and pure beauty. Rose tattoos will never go out of style. They represent a timeless beauty that never fades and, when done correctly, never fails to please.
Check out the most beautiful rose tattoo ideas right now to help your creativity and to find something inspirational.
Small Rose Tattoos
A small rose tattoo are a delicate, unobtrusive and cute design. A small tattoo is a great way to add symbolism to your skin, with designs ranging from a sprinkling of blossoms to basic line art. You can check for more small tattoo ideas for men or small tattoo ideas for women in this articles.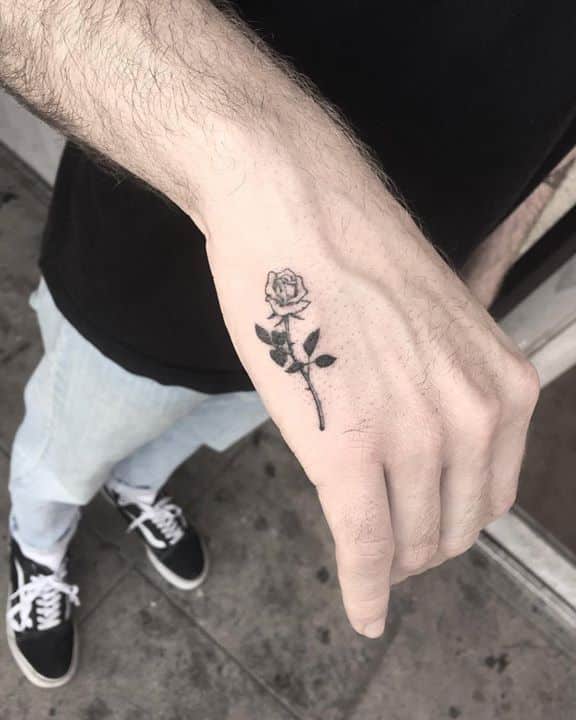 Red Rose Tattoos
Red rose tattoos are a classic choice as this tattoo is ageless and looks great in a variety of styles. You can't go wrong with a rose tattoo, whether you decide for a realistic or Japanese style. Remember to reinforce the colors every few years as it will surely start to fade with time.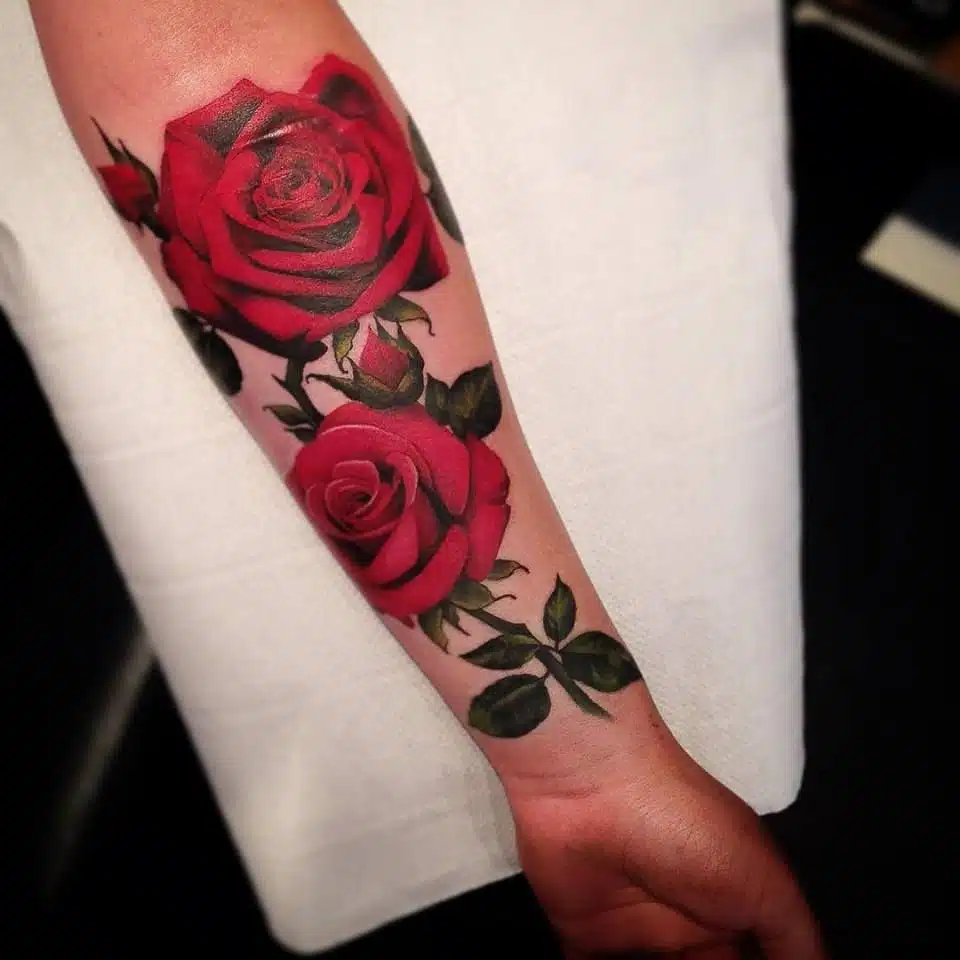 Black Rose Tattoos
A black rose tattoo can represent death, loss, and grief, but bear in mind that blackwork is also a really popular style right now, therefore the color of a rose may not define its meaning. A black rose tattoo is an excellent way to make a statement on your skin and the dark ink will contrast with the delicate design. Opt for something large and powerful or small and subtle – no matter what you pick, you'll want to show this ink to everyone!
Hand Rose Tattoos
Hand tattoos are becoming increasingly popular, although bear in mind that getting a hand tattoo is a lot of commitment and not easy to hide. A hand rose tattoo may look great on your hand, whether is a smaller version, or a large piece that covers the top of your hand.
Neck Rose Tattoos
A neck tattoo is ideal for the men or women that isn't scared to be different. The rose will demonstrate your power and balance in a daring and hazardous action. Keep in mind that the neck is one of the most difficult and uncomfortable places to ink.
Forearm Rose Tattoos
Forearm tattoos for men are one of the most popular tattoo locations and a rose will look great there. Unlike your back, tattoos on the forearm can be seen with ease, although bear mind that a forearm is a lot of commitment, so plan it wisely.
Thigh Rose Tattoos
The thigh is a trending tattoo placement for women because It's not just a hot spot for your body but it also offers lots of room for a larger and more complex rose tattoo design. It's great for the warmer months, a rose thigh tattoo will take your bikini or beach outfit to the next level.
Inbetween Breast Rose Tattoos
Some women opt to pick an in-between breast tattoo, and a rose tattoo there will look sexy and cute. Because of the narrow space, you have to go for a vertical tattoo, and the rose fits there perfectly.
Butt Rose Tattoos
The butt is one of the strangest places on the body to get a tattoo. Butt tattoos have been more popular as people are willing and motivated to try anything at least once in life. Again, a butt rose tattoo will look very cute and above all, will be hidden most of the times.
Minimalist Rose Tattoos
Minimalist tattoos are modern and trendy in the tattoo world. A minimalist rose tattoo is a great way to keep your tattoo minimal, simple and clean. Use straight lines, black colors, and minimal or even no shading to keep the focus on the rose itself.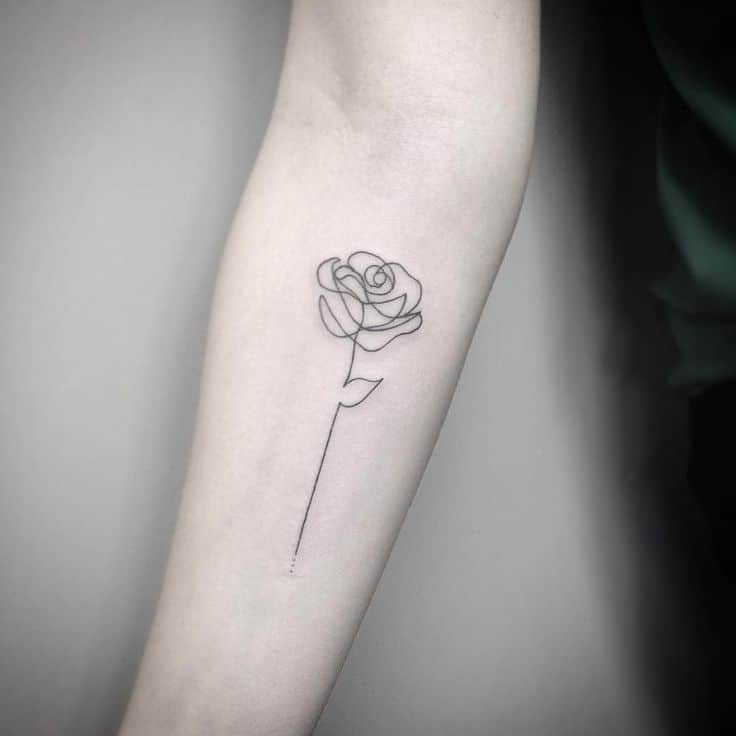 Geometric Rose Tattoos
Geometric tattoos have been popular for many years and people really like them because they give a feeling of balance symmetry and sometimes even mystery. Geometric tattoos can go from completely abstract shapes to a design of something that has meaning to you.
Cross Rose Tattoos
Cross tattoos are becoming more popular among Christians that want to show their faith and dedication to God. A cross tattoos symbolize the faith that Jesus Christ sacrificed for humanity's salvation. These tattoos can be very meaningful, stylish, and represent spirituality, and when paired with a rose you are bringing a lot more attention to it.
Skull Rose Tattoos
With a skull and rose tattoo, you may channel your inner Shakespeare. This is a design full with symbolism, whether you're a lover of Hamlet or just like the contrast between topics. The user of this ink will carry the balance between good and evil, as well as the philosophy that lies between, denoting the discrepancy of life and death.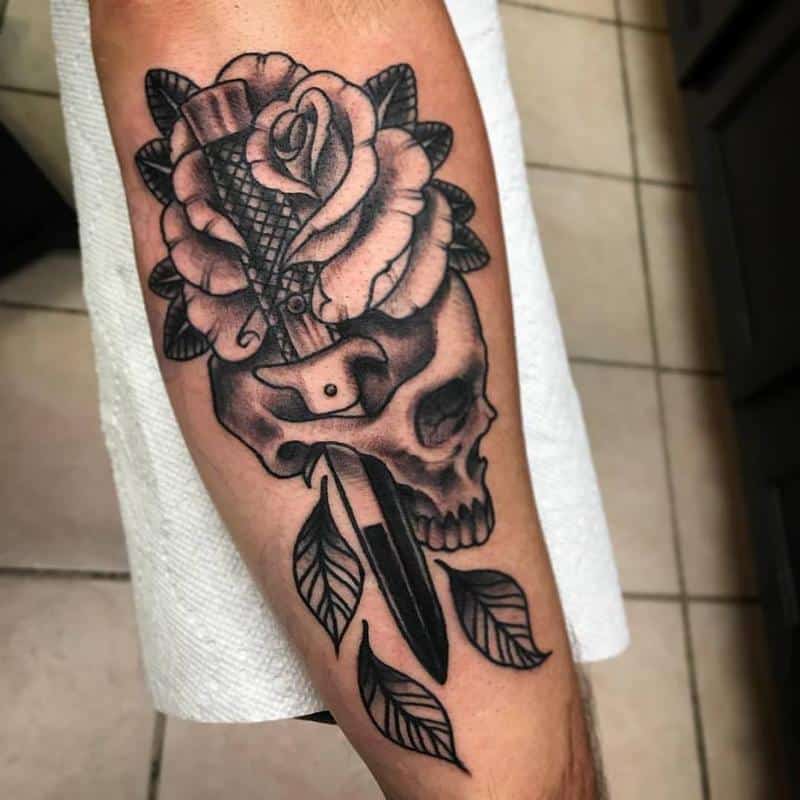 ---
Rose Tattoos Frequently Asked Questions
What does a rose tattoo mean?
A rose tattoo means the won or loss of a loved one, and for that reason has been popular as a symbol of the highest level of emotion throughout history. With this flower, beauty and emotion are in balance, and no other flower can match its beauty or historical significance.
What does a black rose tattoo mean?
Black rose tattoos are frequently associated with mourning because the color black is connected with death. Although, the blackwork style has become more popular and therefore the color of a rose may not define its meaning.