Shoulder tattoos have become more popular among men and women. The most awesome shoulder tattoos are cool and trendy. There is a variety of distinctive tattoo designs and styles to pick from because there are so many great shoulder tattoo ideas. The shoulder has been a favorite spot among tattoo aficionados because the shoulder has long been linked with strength and power. You may choose between a top, rear, or front shoulder tattoo.
Check out the most awesome shoulder tattoo ideas right now to help your creativity and to find something inspirational.
Shoulder Tattoos for Women
The shoulder is one of a woman's most attractive and feminine features. It allows you to reveal a little skin without overdoing it, and it's an excellent spot for tattoos. The beauty of this location is its adaptability; you can flaunt your tattoo and make a dramatic statement, or you can hide it if necessary. It's also adaptable to a wide range of designs, both large and small. A floral tattoo over your shoulder and down your arm is lovely, but a little angel on your shoulder blade is equally lovely.
Shoulder Tattoos for Men
Shoulder tattoos have been a favorite among men since the days of sailor tattoos, because the shoulder has long been linked with strength and power. However, just because shoulder tattoos are classic doesn't mean there aren't any innovative or intriguing designs available.
Flower Shoulder Tattoos
Flower tattoos are one of the most popular shoulder tattoo designs due to their beauty and adaptability. There are several flowers to pick from, each with its own significance. In general, floral tattoos is associated with beauty, love, and life. The meaning of your selected bloom might vary somewhat, for example, the gladiolus flower is linked with family, whilst the peony is associated with good fortune and honor. Getting a floral tattoo is also a very feminine choice that looks excellent with both large and small tats and black or colorful ink.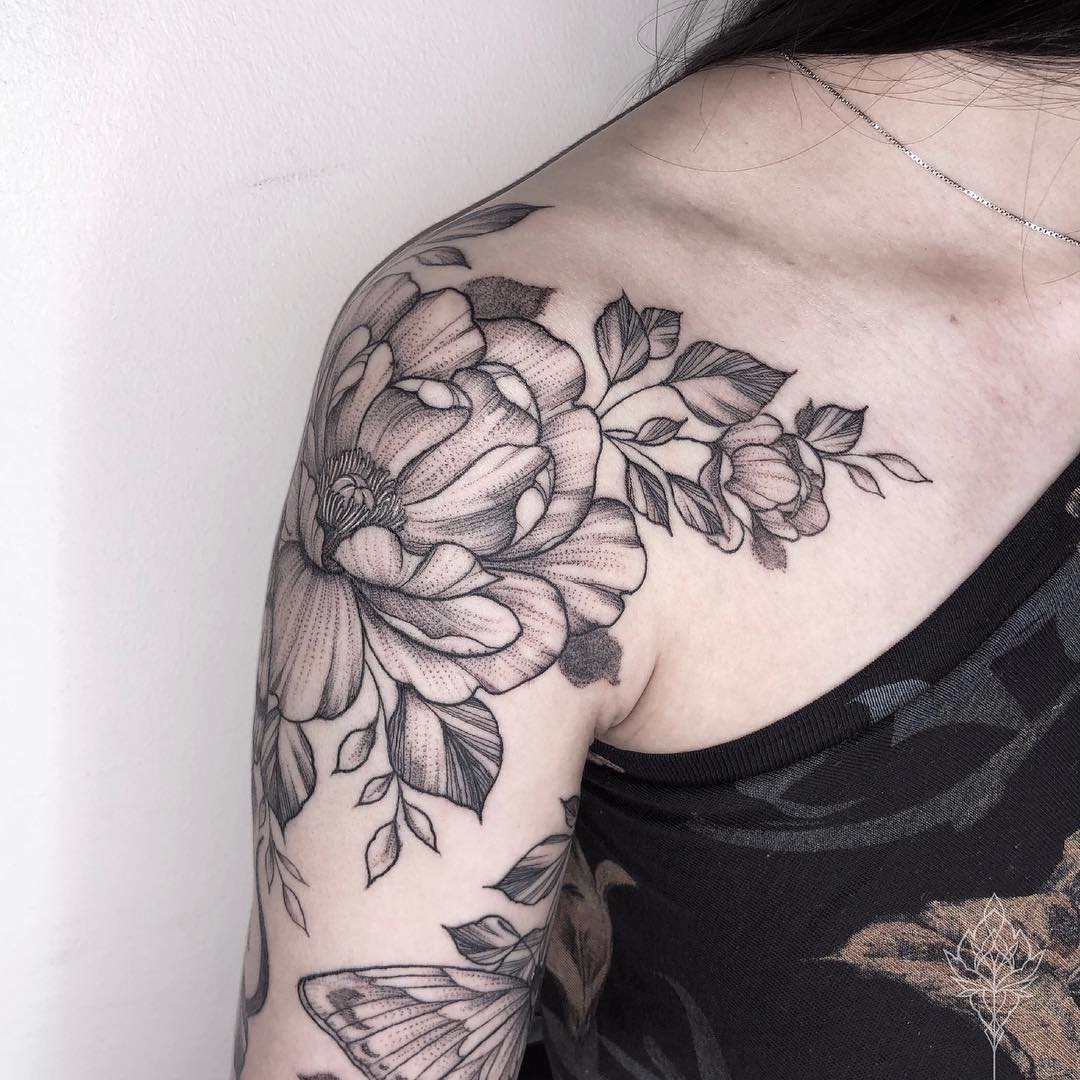 Small Shoulder Tattoos
Small tattoos have gained popularity in recent years because the designs are timeless and you don't have to be constrained in terms of placement, as they fit anywhere of your body. And let's be honest, a shoulder tattoo doesn't have to be large to make an impression. Even a small shoulder tattoo looks nice and impressive.
Tribal Shoulder Tattoos
Tribal tattoos are getting more popular and tribal patterns have become masterpieces. The artwork's straight lines and the absence of a beginning and an end are also significant pluses. Try a razor wire design starting at the top of the shoulder and going down to the arm or forearm.
Back Shoulder Tattoos
A back shoulder tattoo is the ideal place if you want to ink something meaningful but that you don't want to see every day. You may extend your back shoulder tattoo to the back or to the arm if the design is complex and big enough.
Dragon Shoulder Tattoos
Dragon tattoos have been around for decades, and they are popular among men and women. A dragon tattoo symbolizes strength, power, and knowledge, and it looks great on the shoulder because of the shape. Dragon tattoos are also a versatile design for a tattoo because they can be customized to fit a variety of art styles.
Eagle Shoulder Tattoos
An eagle tattoo may be big and intimidating, with wings covering your chest and arm along the shoulder, or abstract and small. The beauty of this bird is that it represents something different to everyone. There are several ways to interpret it. An eagle tattoo can take on a variety of forms and styles.
Lion Shoulder Tattoos
Lion tattoos are still one of the most popular men's tattoo designs. Strength, power, pride, masculinity, and leadership are all symbols of the lion. The shoulder is a great place for a lion tattoo as you can adapt many different styles and designs to incorporate the lion.
Cross Shoulder Tattoos
Cross tattoos are generally associated with religion and faith, and they are a wonderful way to express your faith. It can also signify Jesus Christ's sacrifice for the welfare of humanity, and so be connected with unconditional love and devotion.
Half Sleeve and Shoulder Tattoos
A half sleeve tattoo is shorter than a sleeve tattoo and ends around the bicep. A shoulder tattoo looks amazing when matched with the arm. Because the muscles and bones in your upper arm are curved, you'll need a tattoo artist who can make your design so that it doesn't distort and moves with your body.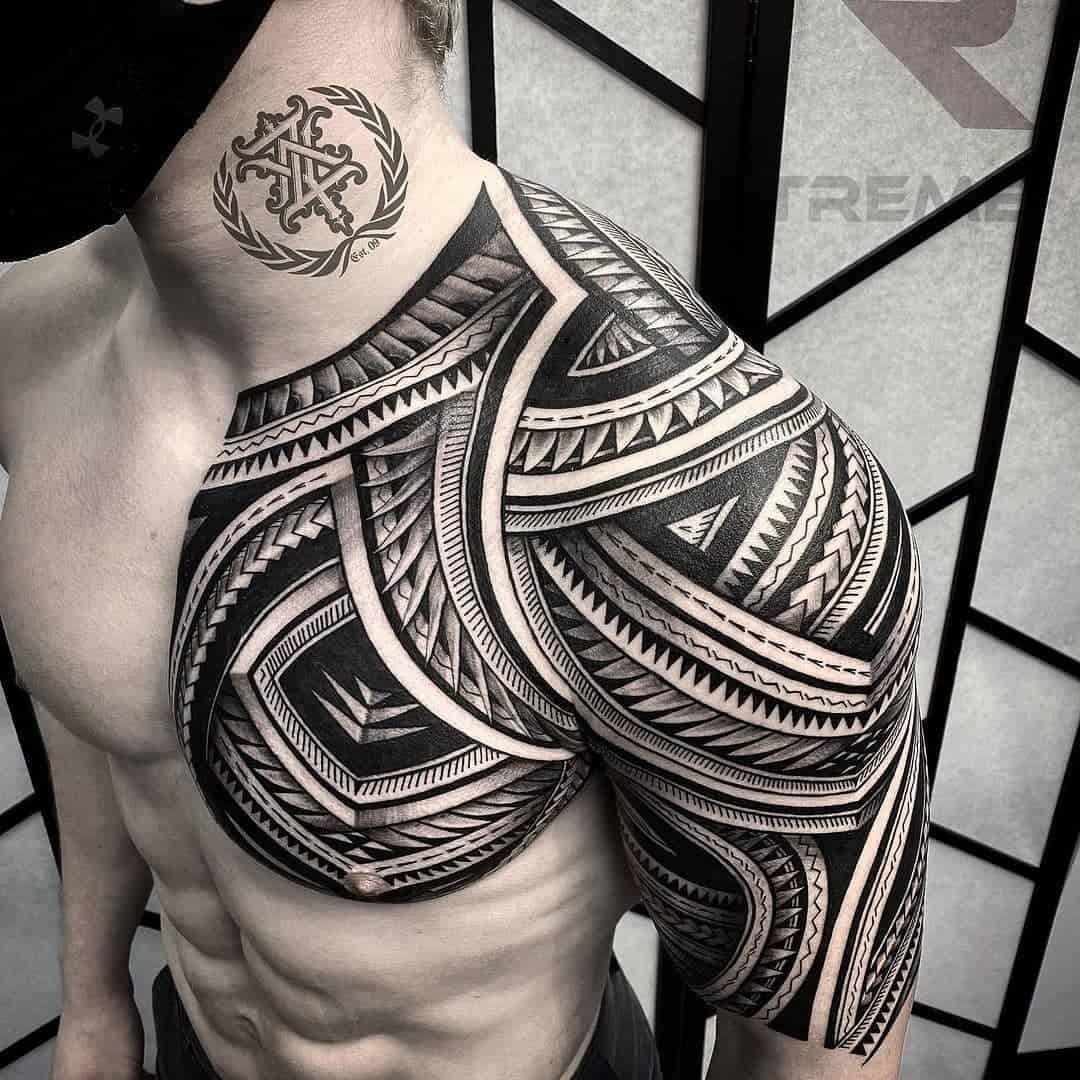 Rose Shoulder Tattoos
Rose tattoos have been popular for ages and they will remain like so as they symbolize beauty and love, among other things. When coupled with other symbols, it creates a powerful depiction of feelings and importance. You can choose a bright color, such as red or pink, as the final touch to bring the exquisite painting to life.
Geometric Shoulder Tattoos
Geometric tattoos have been popular for many years and people really like them because they give a feeling of balance symmetry and sometimes even mystery. Geometric tattoos can go from completely abstract shapes to a design of something that has meaning to you.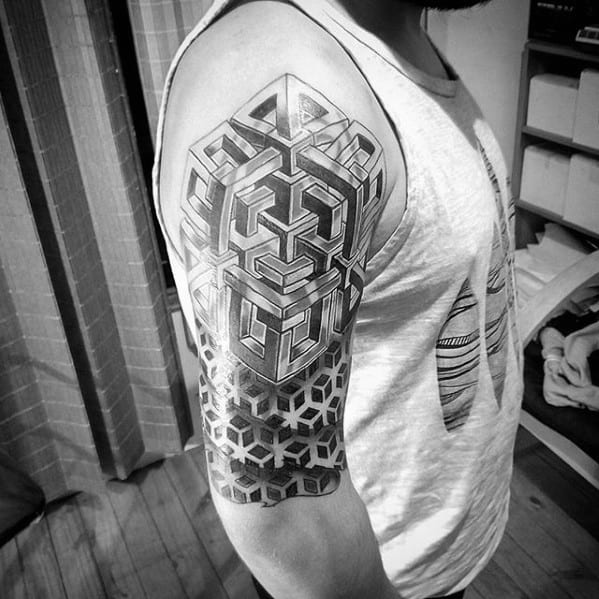 Minimalist Shoulder Tattoos
Minimalist tattoos are modern and trendy in the tattoo world. A minimalist rose tattoo is a great way to keep your tattoo minimal, simple and clean. Use straight lines, black colors, and minimal or even no shading to keep the focus on the rose itself.
---
Shoulder Tattoos Frequently Asked Questions
Do shoulder tattoos hurt?
The thick skin on the outside of your shoulders contains few nerve endings, making it one of the least painful locations to get tattooed. The discomfort of getting a tattoo in the shoulder is typically low to low-moderate.
Do shoulder tattoos fade?
If you often wear a backpack, for example, getting a tattoo on your shoulders may not be the greatest decision since the friction from the straps may cause it to fade. Other than that, it's just like any other tattoo that can last very long, if not forever. If you notice that it's fading, you can always retouch it.